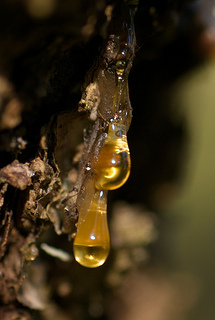 MEDIA ROOTS — If scientists working for petrochemical corporations can manipulate molecular structures to derive new substances, plastics, so can scientists working for a greener agenda.
Messina
***
SCIENCE DAILY — Plastic bags are a bane of nature. And not just bags — just about all plastics, really. Most are made out of petroleum, and a piece of plastic, if it misses the recycling bin and ends up in a landfill, will probably outlast human civilization.
But Chuanbing Tang at the University of South Carolina is developing new plastics that are "green" from the cradle to the grave. Given that the new polymers he's working on often come from pine trees, firs and other conifers, he's giving the word "evergreen" added resonance.
Rather than tapping a barrel of oil to obtain starting materials, Tang's research group instead begins with the natural resins found in trees, especially evergreens. The rosin and turpentine derived from their wood is rich in hydrocarbons, similar but not identical to some components of petroleum.
Hydrocarbon-rich starting materials, whether from petroleum or tree resin, can be converted into various forms of what are commonly termed "plastics" through polymerization. With petroleum derivatives, scientists have invested more than a hundred years of research into refining the polymer chemistry involved, and their success in that endeavor is evident in the range of plastics now part of common parlance, such as Plexiglas, polycarbonate and PVC.
Read more about Turning pine sap into 'ever-green' plastcs.
***
Photo by Flickr user T Maesel