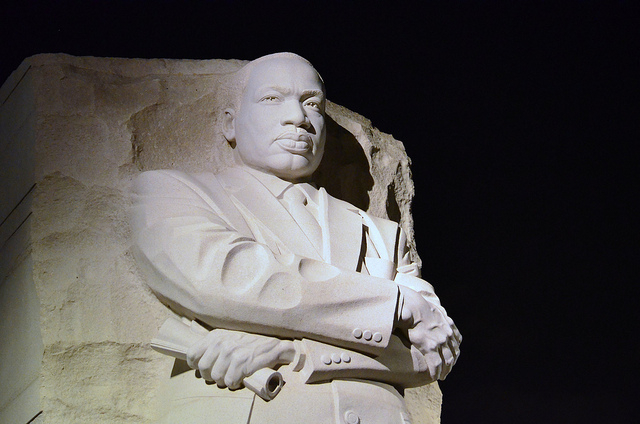 For many, the words "I have a dream" are the only thing they associate with Dr. Martin Luther King, Jr.

Dr. King's legacy is mostly depicted in the context of civil rights, with history books lauding his noble achievements of the Civil and Voting Rights Acts being passed.
But Dr. King gave hundreds of unpopular and controversial speeches ranging from the dangers of the Vietnam War to mass commercialization. During his life, he was attacked and marginalized from the white and black community alike.

The US government coined Dr. King the most "dangerous Negro leader in the country", routinely spied on him and even went as far as writing him a letter in 1964 urging him to commit suicide.
In fact, MLK Jr.'s surviving family filed a civil suit in Memphis, TN, in which the jury found elements of the US government complicit in his assassination.
Having been arrested thirty times, Dr. King routinely threw his body upon the gears of the machine to show that change doesn't roll in on the wheels of inevitability, but through continuous struggle against institutionalized injustice.

Focusing on America as the greatest purveyor of violence in the world, Dr. King spent the last year of his life fighting what he called the triple evils of the word: racism, militarism, and economic exploitation.
In fact, when MLK was assassinated he was planning the "Poor People's Campaign" – a mass march and occupation of DC until the US government granted poor people an "Economic Bill of Rights".
Listen to his profound speech "Beyond Vietnam", given exactly one year before Dr. King's assassination.
Rev. Dr. Martin Luther King Jr. "Beyond Vietnam"
It's a topic Tavis Smiley explores in amazing depth and clarity in his new book, Death of a King: The Real Story of Dr. Martin Luther King Jr.s' Final Year in which he talks about the unvarnished truth about Dr. King's life, and last sermon entitled "Why America May Go to Hell".

Breaking the Set speaks with Smiley about Dr. King and Mahatma Gandhi's grandson, Arun Gandhi, about why structural and passive violence are the most inhibiting factors for peace.


Breaking the Set with Tavis Smiley and Arun Gandhi
**
 Abby Martin | @Abby Martin 
Photo by flickr user Angela N.