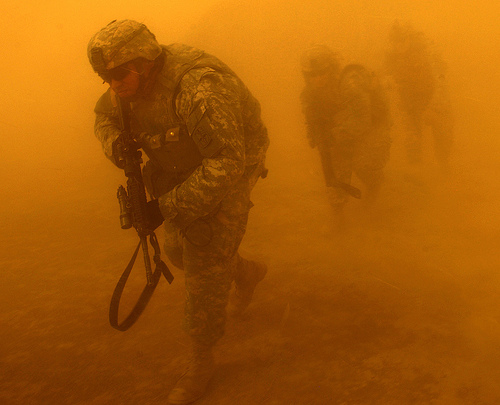 GUARDIAN– President Hamid Karzai has lost faith in the US strategy in Afghanistan and is increasingly looking to Pakistan to end the insurgency, according to those close to Afghanistan's former head of intelligence services. Amrullah Saleh, who resigned last weekend, believes the president lost confidence some time ago in the ability of Nato forces to defeat the Taliban.
As head of the National Directorate of Security, Saleh was highly regarded in western circles. He has said little about why he quit, other than that the Taliban attack on last week's peace jirga or assembly in Kabul was for him the "tipping point"; the interior minister, Hanif Atmar, also quit, and their resignations were accepted by Karzai.
Privately Saleh has told aides he believes Karzai's approach is dangerously out of step with the strategy of his western backers. "There came a time when [Karzai] lost his confidence in the capability of the coalition or even his own government [to protect] this country," a key aide told the Guardian.
Saleh believes Karzai has long thought this, but his views were crystallised in the aftermath of last year's election when millions of votes were found to be fraudulent; Karzai blamed the US, UK and United Nations for the fraud. According to the source, Saleh is deeply concerned by Karzai's noticeably softer attitude towards Pakistan. The president has long dropped his past habit of excoriating Pakistan for aiding the Taliban.
Saleh also echoes complaints of US commanders that Karzai refuses to behave like a commander-in-chief, and is not publicly leading the counterinsurgency campaign devised by Stanley McChrystal, the US commander of Nato forces.
In London today, the US defence secretary, Robert Gates, warned that progress needed to be made. "In all coalition countries the public expects to see us move in the right direction [but] will not tolerate the perception of a stalemate, where we are losing our young men."
Gates also warned of "a high level of violence, especially this summer", as US forces push deeper into southern provinces where the Taliban are strongest. Today in the south, insurgents shot down a Nato helicopter, killing four US troops, while a British soldier died in a separate attack. In Islamabad in Pakistan, an assault on a depot by insurgents destroyed 50 lorries belonging to the Nato military supply chain.
Continue reading about the Afghan President Losing Faith.
Photo by US Army Flickr
© COPYRIGHT GUARDIAN, 2010