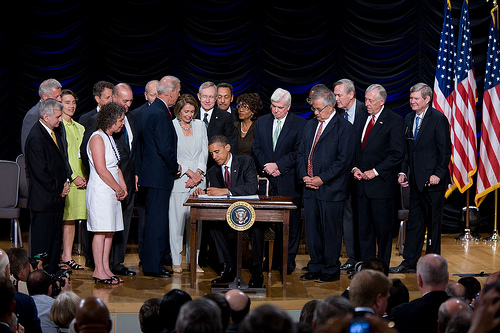 WASHINGTON POST– The Obama administration appears to be backing away from the phrase "global war on terror," a signature rhetorical legacy of its predecessor.
In a memo e-mailed this week to Pentagon staff members, the Defense Department's office of security review noted that "this administration prefers to avoid using the term 'Long War' or 'Global War on Terror' [GWOT.] Please use 'Overseas Contingency Operation.' "
The memo said the direction came from the Office of Management and Budget, the executive-branch agency that reviews the public testimony of administration officials before it is delivered.
Not so, said Kenneth Baer, an OMB spokesman. "There was no memo, no guidance," Baer said yesterday. "This is the opinion of a career civil servant."
Coincidentally or not, senior administration officials had been publicly using the phrase "overseas contingency operations" in a war context for roughly a month before the e-mail was sent.
Peter Orszag, the OMB director, turned to it Feb. 26 when discussing Obama's budget proposal at a news conference: "The budget shows the combined cost of operations in Iraq, Afghanistan and any other overseas contingency operations that may be necessary."
And in congressional testimony last week, Craig W. Duehring, assistant secretary of the Air Force for manpower, said, "Key battlefield monetary incentives has allowed the Air Force to meet the demands of overseas contingency operations even as requirements continue to grow."
Monday's Pentagon e-mail was prompted by congressional testimony that Lt. Gen. John W. Bergman, head of the Marine Forces Reserve, intends to give today. The memo advised Pentagon personnel to "please pass this onto your speechwriters and try to catch this change before statements make it to OMB."
Continue reading about Obama Changing the Name of the War on Terror.
Photo by flickr user LeaderNancyPelosi
Vice president Joe Biden explains why this war is no longer a global "War on Terror."
© COPYRIGHT WASHINGTON POST, 2009