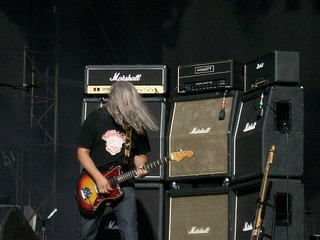 MEDIA ROOTS — If you're like me, you'll do your darnedest to make sure you catch the lovely J Mascis or the tender and mighty Dinosaur, Jr. anytime they come to town. For some of us, this means catching life-altering gigs at venues like San Francisco's Fillmore or Slim's. So, imagine my delight when my dear brother Mónchis said Henry Rollins would be previewing on his KCRW radio show J Mascis' forthcoming release of instrumental guitar-driven transcendence from his new eponymous side-project, Heavy Blanket (below).
But if you've never heard of 'em, for starters, check out Without a Sound. You will not be disappointed. J Mascis was recently ranked #5 of the top 100 guitarists of all time by Spin. Indeed; Kurt, Lee & Thurston, Jimi to name a few. And all share a love of Fenders, too. Even Morrissey's legendary bassist, Gary Day, at the Beauty Bar in SF's Mission District joined me in chatting about J's purple sparkle Fender Jazzmaster guitar one fine night the very gallant gentleman was hosting a stylish soirée.
But don't just fast-forward to the second hour of Rollins' KCRW radio show for the Heavy Blanket world-premiere because Rollins has plenty of life-affirming, soul-nourishing musical vitality in store for you—from delectable stylists, such as The Stooges (with a track pre-dating Joy Division's "New Dawn Fades"), Janis Joplin, The Ramones, Marnie Stern, Jimi Hendrix, The Ruts, Generation X, and more, such as, quite possibly, the first time distorted guitar was ever recorded, certainly popularised, with Jackie Brenston & His Delta Cats right on down to the Japanoise sounds of Fushitsusha. Also, check out the excellent recent J Mascis concert from the Aussie 2012 Sydney Festival (below).
Messina
***
Henry Rollins: KCRW Broadcast 162 Saturday, 28 APR 2012
Heavy Blanket
Heavy Blanket
Outer Battery Records
1. Galloping Toward the Unknown
2. Spit in The Eye
3. Blockheads
4. Corpuscle Through Time
5. Dr Marten's Blues
6. No Telling No Trail
***
LA WEEKLY — Fanatics! Hello from beautiful Sydney, Australia. I am a few hours away from another show here. I have been finding some great records here that will find themselves in our upcoming shows over the summer. I think you're going to like what we will be laying on you in the weeks and months upcoming!

In our first hour, we will be rocking some serious guitar heavy hitters. If you look down the list, it's all heavy weight all the way through but you will notice something conceptual in the second part of our show.

Now, in tonight's second hour, we have a very special record we will be playing for your in its entirety. A side project of our good pal J Mascis called Heavy Blanket will be releasing their first and perhaps only album on May 8. Visit J Mascis' site for more information.
Read more about Fanatics! Henry Rollins' KCRW Show Tomorrow Night : World Debut of J Mascis/Heavy Blanket Album.
***
Sydney Festival 2012: Watch J Mascis and other great gigs on Moshcam.
"Me, I'm a part of your circle of friends
And we notice you don't come around
Me, I think it all depends
On you, touching ground with us
I quit, I give up
Nothing's good enough for anybody else
It seems
I quit, I give up
Nothing's good enough for anybody else
It seems
And being alone is the best way to be
When I'm by myself, it's the best way to be
When I'm all alone, it's the best way to be
When I'm by myself, nobody else can say
Goodbye
Everything is temporary, anyway
When the streets are wet
Colours slip into the sky
But I don't know why that means
You and I are
That means
You and I quit?
I give up
Nothing's good enough for anybody else
It seems
I quit, I give up
Nothing's good enough for anybody else
It seems
And being alone is the best way to be
When I'm by myself, it's the best way to be
When I'm all alone, it's the best way to be
When I'm by myself, nobody else can say
Me, I'm a part of your circle of friends
And we notice you don't come around"
***
Photo by Flickr user total13
"Circle" © 1988 (Brickell/Withrow)