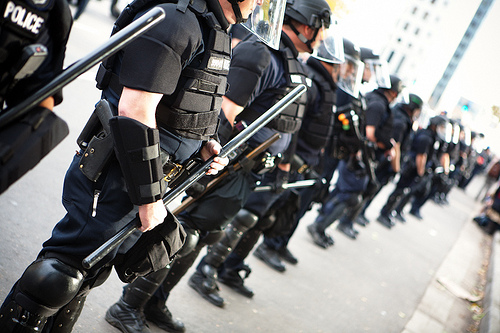 MEDIA ROOTS — The 1980s anti-communist film Red Dawn is a favorite among the liberty movement and any paleo-convervatives whom support big government. The cult film portrays a youthful resistence movement that formed in response to a full-scale military invasion of the United States by a communist nation.
Thirty years later, the upcoming independent film Gray State has recently released a concept trailer which puts a fresh spin on the martial law scenario featured in Red Dawn. In this scenario, militas form in order to fend off the U.S. military and other federal agents from taking advantage of declared martial law. As the trailer progresses, the savior against Big Brother becomes a rag-tag group of thirty-something, gruff-looking, alpha-male milita fighters organized to take on American "peacekeepers."
The movie intends to shed light on the impending power of the federal government and many facets of an increased domestic police state, but it seems to fall into the fantasy pipe dream that with the citizenery armed, it can defend itself against the most technologically-advanced military force in the world.
Most three-act films end on some kind of cathartic or happy ending, one where the protagonist prevails and the viewer leaves the theatre fufilled–so I understand why the filmmakers didn't end the film with a more realistic outcome. However, if the scenario portrayed in Gray State were to actually occur, there would be little room left for happiness. The most realistic ending would leave one possibly very helpless for guns alone will not save American society.
Regardless, the trailer has a lot of high quality visuals and special effects. We hope the filmmakers complete the project with a strong script and in the end don't force in a happy ending. Check it out below as well as a mini documentary featuring interviews with activists and journalists explaining the concept behind the film.
Robbie Martin for Media Roots.
***


The film Gray State recently released its first concept trailer and is scheduled for release later this year.



Abby Martin, along with other independent journalists, discuss the scope and importance of the film Gray State.
***
Photo by Flickr user Alexhophotography