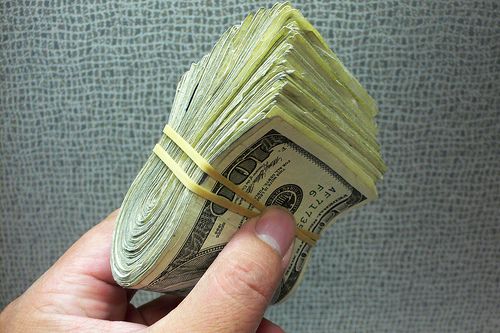 RAW STORY– Yesterday, we brought you the insurance company that wouldn't insure a 17-pound infant because he was too heavy. Today, we bring you the investment bank that manages to double its bonuses during the worst recession since the Great Depression.
On Thursday, Goldman Sachs will announce the firm's bonus payments for 2009. Analysts expect the bonus pool to mushroom to $23 billion — double the bonus pool paid to employees in 2008. Earlier this year, Goldman Sachs said that it had put aside $11.4 billion for bonuses during the first half of the year.
"The absolute size of compensation payouts will rise significantly," Keith Horowitz, an analyst at Citigroup, wrote in a note to clients two weeks ago, highlighted by Andrew Sorkin in The New York Times' dealbook column Tuesday.
How much is $23,000,000,000?
For one thing, it's enough to send 460,000 full paying students to Harvard University for one year, or 115,000 for four years.
It's enough to pay the health insurance premium for the average American family ($13,375) 1.7 million times.
It's enough to upgrade 191 million computers to Windows 7 operating system (priced at $119.99), or to buy 115 million iPhones at $199.99 (provided the recipient was willing to sign a two-year contract).
Or, apparently, it's enough to reward the employees of Goldman Sachs for a bonanza trading year, at a firm where average employee compensation was recently $622,000 — and likely to be greater this year.
Read more on Goldman Sachs Doubling their Bonus Pool.
© RAW STORY, 2009
Photo by flickr user Refracted Moments