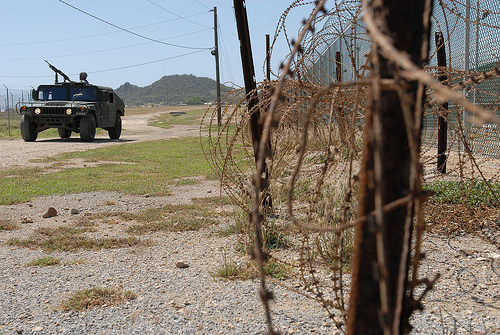 RAW STORY– In a stunning departure from his rhetoric on Guantánamo Bay prison, President Barack Obama signaled Friday he will continue Bush Administration policy with regard to detainees held at a US airbase in Afghanistan, saying they have no right to challenge their detentions in US courts — and denying them legal status altogether.

"This Court's Order of January 22, 2009 invited the Government to inform the Court by February 20, 2009, whether it intends to refine its position on whether the Court has jurisdiction over habeas petitions filed by detainees held at the United States military base in Bagram, Afghanistan," Acting Assistant Obama Attorney General Michael Hertz wrote in a brief filed Friday. "Having considered the matter, the Government adheres to its previously articulated position."

The move seems to be a reversal from Obama's much-trumpeted announcement to close the US prison at Guantánamo Bay, Cuba in January, in which he promised to return the United States to the "moral high ground" and "restore the standards of due process"

The US Supreme Court previously ruled that it was unconstitutional to hold detainees at Guantánamo Bay without giving them access to US courts. Following that ruling, more than 200 detainees filed suit in the District Court for the District of Columbia.

The Obama Administration announcement would appear to fly in the face of that ruling. The Court, while often supportive of previous Bush Administration terror policies, has strongly resisted efforts to curb its role in the legal aspect of US detention systems.

Bagram prison, where approximately 600 detainees are being held without charge or even term limits on their stay, is located about 30 miles north of Kabul in a converted Soviet Union base. The US is mulling a $60 million plan to expand the facility, which would double its current size.
Continue reading about Obama Continuing Bush's Policy on Detainees.
Photo by US Army Flickr
© RAW STORY, 2009