MR: Great, exactly what we need: "Israeli-style screenings" by the TSA. Despite the increased scrutiny against the TSA's invasive security procedures that involve groping children and humiliating the elderly, a new element of interrogation is being added to the security program in Logan Airport.
BOSTON HERALD– Boston's TSA screeners — part of a security force whose competency has come under fire nationwide — soon will be carrying out sophisticated behavioral inspections under a first-in-the-nation program that's already raising concerns of racial profiling, harassment of innocent travelers and longer lines.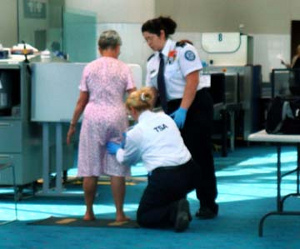 The training for the Israeli-style screening — a projected $1 billion national program dubbed Screening Passengers by Observation Techniques — kicks off today at Logan International Airport and will be put to use in Terminal A on Aug. 15. It requires screeners to make quick reads of whether passengers pose a danger or a terror threat based on their reactions to a set of routine questions.
But security experts wonder whether Transportation Safety Administration agents are up to the challenge after an embarrassing string of blunders — including patting down a 95-year-old grandmother in Florida and making her remove her adult diaper and frisking a 3-year-old girl who screamed "stop touching me" at a checkpoint in Tennessee.
Civil libertarians argue the screening is TSA showmanship — coming just weeks before the 10th anniversary of the Sept. 11, 2001, terrorist attacks — and could quickly devolve into profiling.
Read more about TSA To Put HUB Fliers On The Spot
© 2011 Boston Herald
Photo by Flickr user Lindsmo