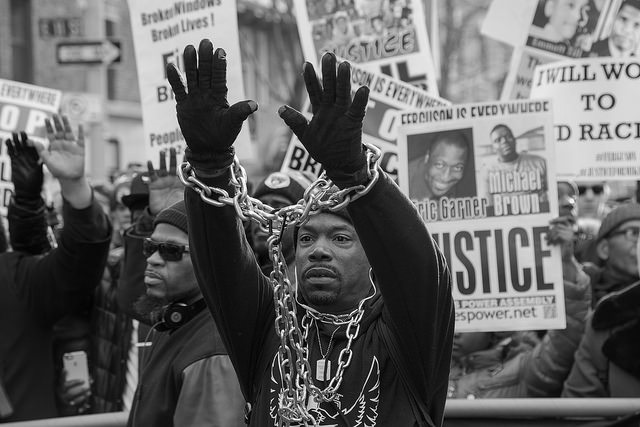 In the wake of the police killings of Michael Brown and Eric Garner, many mainstream media outlets featured guests who shifted the focus from police brutality to "black-on-black" violence.
FBI statistics show that intra-racial homicide is high for both blacks (90%) and whites (83%), so it's puzzling when people bring up black-on-black homicide as if it's a pathology endemic to black people. Nevermind that when a white suspect opens fire at a movie theater, elementary school or on a Congress woman, white-on-white homicide is hardly ever mentioned nor discussed.
There's long history in the United States of racist law enforcement and mistreatment of African Americans. But this red-herring tells black people they should concern themselves with intra-racial violence as opposed to police violence, patently dismissing legitimate grievances African Americans have in regards to the over-policing of their communities.
Black communities are very concerned about high rates of gun violence and homicides, as well as the socioeconomic conditions that put black youth at risk for experiencing violent trauma. In many communities across the country, there are several neighborhood organizations working to reduce gang and gun violence. Cities such as Philadelphia, Baltimore, Oakland and Chicago have hospital-based or hospital-affiliated violence intervention programs that help reduce recidivism among those who have experienced violent trauma using biopsychosocial framework to mitigate associated risk.
Those who wish to deflect attention away from unarmed black men being murdered by police and point fingers at community neglect don't seem to care that these programs and organizations exist. Just because the media doesn't show protests against black-on-black violence doesn't mean they are not occurring.
Unaccountable police killings are rampant across the country and color lines, but black men are gunned down by white police officers with impunity at a rate 21 times higher than their white counterparts. People are waking up to this disturbing trend and participating in mass at protests and die-ins nationwide to express their outrage towards police impunity.
While President Obama seems to think requesting hundreds of millions of dollars to outfit officers with body cameras will prevent these violent encounters, the murders of Eric Garner and Oscar Grant were both caught on camera. Daniel Pantaleo was not indicted for the death of Garner while BART police officer Johannes Mehserle spent only 11 months in prison for the murder of Grant.
America's two-tiered justice system continues to exhibit that life does not matter, especially when it's African American. It will only take a sustained, collective movement to end violent, racist, and militarized police practices across the country. The black community is working hard to address the serious issue of black-on-black violence. So next time you hear this sensationalist argument, shift the conversation to where it really matters: the system.
Ken Peeples is working in social behavioral and biomedical research in Philadelphia. His background is Political Science and African American Studies. @StatelessMan18
Photo by flickr user Barry Yanowitz