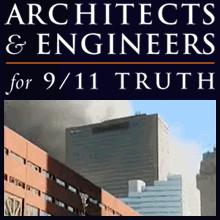 MEDIA ROOTS- One of the most bizarre aspects of 9/11 is undoubtedly the mysterious "collapse" of World Trade Center Building Seven, a 47 story steel skyscraper that was never hit by an airplane, yet fell into its own footprint on 5:20 pm that fateful day.
The corporate media, the federal government and the National Institute of Standards and Technology (the arm of the government that eventually investigated the collapse) all maintain that Building Seven fell due to fires alone, despite a plethora of contradictory evidence pointing to controlled demolition.
Architects and Engineers for 9/11 Truth is a non profit organization consisting of over 1500 building professionals who have put their careers on the line to call for a new investigation into the collapse of all three World Trade Center buildings. Solving the Mystery of WTC 7 is a new AE911Truth documentary that decimates the government's official account of Building Seven's destruction. The fifteen minute film features excellent interviews from building professionals and AE911Truth signatories.
Abby Martin

Architects and Engineers for 9/11 Truth, Solving the Mystery of WTC 7