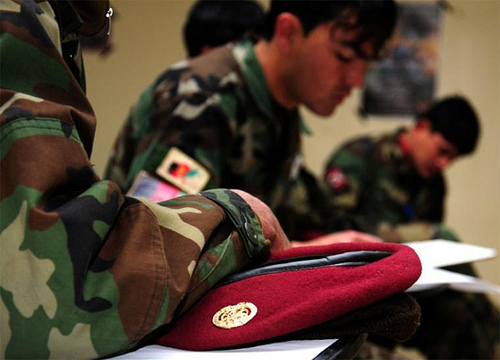 MEDIA ROOTS – The Pentagon disseminates propaganda through many different avenues: embedded reporting, press conferences, active cooperation with Hollywood, and through American Forces Press Service. The capstone of AFPS is a daily report known as "Face of Defense," which glorifies the fighter, omits the horrors of war, and hypes creative accounts of military life. Examples include:

"Passion for Cooking Drives Marine's Service"
"Nebraska Native Mentors Afghan Farmers"
"Airman Saves Little Girl at Beach"
"Togolese-born Army NCO Lives His Dream"

The Pentagon also issues daily reports through AFPS, which are intended to quantify the individuals detained and killed by the U.S. military, and the weaponry it confiscates during operations in Afghanistan. One may deem them Detained-Killed reports for convenience. Through the distillation of all fifteen Detained-Killed reports, which were issued in March 2012, many lessons are deduced regarding the Pentagon's choice of nomenclature, the locations of its battles with the Afghan resistance, and its professed reasons for occupying Afghanistan.

Use of Nomenclature

In keeping with the Pentagon's desire to arrogate progress in Afghanistan, each report described all operations as "Afghan-led" or led by "Afghan special units." In extremely gratuitous cases, reports referred to "Afghan provincial response team with coalition mentors" or "an Afghan provincial response company advised by coalition forces." However, in most instances, reports stuck with the standard reference to Afghan-led and coalition-supported forces.

In total, the Pentagon used thirteen distinct labels to describe the individuals it detained. These labels include Haqqani leader, Taliban leader, senior Taliban leader, Taliban facilitator, Taliban weapons supplier, Taliban insurgent, Islamic Movement of Uzbekistan leader, IED manufacturer, insurgent, insurgent leader, suspected insurgent, insurgent commander, and suspect. Despite this great variety, the reader is left with no understanding of the standards the Pentagon uses to label its captives. In fact, Wired.com reports that the Pentagon has no formal criteria to delineate "leaders" from general insurgents. While the Detained-Killed reports provide some understanding of why certain individuals were detained, they don't provide any indication of what distinguishes accused insurgents from suspects, facilitators from suppliers, or leaders from commanders.

Questions arise when assessing the variety of labels that are applied to these individuals. Once detained, is the humanity of an individual's treatment gradated in proportion to the severity of his assigned moniker? For instance, are generic insurgents treated with the same disdain as confirmed Taliban members? How many of these detainees have access to any semblance of legal procedures or due process? When was the last time a confirmed, genuine Al-Qaeda member was captured in Afghanistan?

Locations and Reasons

These thirteen distinct types of enemy were detained across thirty-one specific locations throughout Afghanistan. The most active provinces where captures occurred were Helmand and Kandahar. Fourteen separate captures occurred in Helmand and seven separate captures occurred in Kandahar. The most active district was Nad 'Ali in Helmand province, where individuals were captured on six separate instances.

The Pentagon's Detained-Killed reports provide many reasons to justify capturing individuals. Some of the reasons for capture are quite specific. For example, in one instance Afghan judicial officials had issued an arrest warrant for a suspect who was linked forensically to IED components. In another instance, an individual was wanted for participation in illegal drug trafficking. Another individual was an alleged supervisor of Taliban finances. Aside from these examples, justifications for capturing the enemy were blurry.

The Pentagon's reports didn't distinguish how activities are qualified. For example, different individuals were arrested for allegedly organizing roadside bombings, overseeing the construction of roadside bombs, coordinating roadside bombings, and preparing suicide bombers. Although these descriptions vary, the Pentagon reports never clarify the difference between organizing, overseeing, coordinating, and preparing a bombing. One may speculate that the Pentagon keeps these lines blurred in order to provide Afghan/Coalition Forces (ACF) with sufficient flexibility to detain anyone they wish.

According to the cumulative total of these press releases, every individual was detained because of alleged involvement in plots or attacks against the foreign militaries, which occupy Afghanistan. Moreover, nobody was detained for plotting against the U.S. mainland or any other country. The implications of these statements are manifold.

Others individuals are captured simply because they're "suspects." One individual was suspected to have planned suicide attacks, while another was suspected of involvement in a bombing at Jalalabad airfield. Six individuals were captured for allegedly attacking or targeting ACF. Twenty-six individuals were captured for allegedly planning, coordinating, organizing, directing, or controlling insurgent attacks. Seventeen others were captured for allegedly providing or supplying weaponry, materiel, or funds to insurgents. No information was given regarding how the Pentagon determined the intent of the individuals who were detained for simply "planning" attacks.

Some individuals were captured as a by-product of search operations undertaken by Afghan/Coalition Forces. These captures occurred when ACF searched for a Haqqani "facilitator" and for a Haqqani "leader." At least nine individuals were captured when ACF were searching for various Taliban leaders. At least two individuals were captured during searches for Taliban insurgents. Other captures occurred during an ACF search for an Islamic Movement of Uzbekistan leader. No reasons were given for detaining any of these particular individuals.

Manipulation of Paraphernalia

Afghan/Coalition Forces confiscate and destroy certain items, which they encounter during the course of their operations. Sometimes the Detained-Killed reports give little detail and just note that confiscated items were "weapons." Other times, Detained-Killed reports are quite specific. For example, Afghan/Coalition Forces confiscated 4,500 pounds of ammonium nitrate in Marjah, Helmand on 26 March.

Based on analysis of March's Detained-Killed reports, everything destroyed or confiscated by Afghan/Coalition Forces fell into two categories: weaponry and "illegal drugs." The weaponry included shotguns, rifles, hand grenades, ammonium nitrate, blasting caps, detonation cord, pressure plates, "suicide vests," anti-tank mines, RPGs, and rockets. The "illegal drugs" were opium, heroin, hashish, marijuana, and marijuana seeds. Helmand province led the way with seven separate instances of confiscated weaponry or drugs. Nangarhar, Ghazni, Paktika, and Uruzgan provinces also witnessed confiscations.

Confiscating or destroying drugs that the U.S. government deems "illegal" does not change the fact that Afghanistan is economically dependent upon opium and marijuana cultivation. No amount of American-led destruction or confiscations will change that. Similarly, Afghan/Coalition Forces can seize all the bomb-making equipment they can find in Afghanistan and still not make a dent in the amount of weaponry available in the country. Furthermore, confiscating rifles and ammunition directly violates a fundamental norm of Afghan society; taking away a male's weapon simultaneously confiscates their perceived masculinity, working against the very "hearts and minds" that the Pentagon's Counterinsurgency Manual (FM 3-24) claims to help. Over eleven years into the war, these basic issues are still up in the air.

License to Kill

Afghan/Coalition Forces killed individuals during patrols, search operations, and confiscations. In the month of March, ACF killed the following enemy labels: a senior Islamic Movement of Uzbekistan leader, "multiple insurgents," "several insurgents," an insurgent leader, eight individual insurgents, and a Taliban bomb maker. After the killings subsided, ACF detained "several suspected insurgents," a wounded insurgent, and two separate insurgents. Individuals were killed in the provinces of Baghlan, Faryab, Kunar, Kunduz, Laghman, and Uruzgan. Curiously, no deaths were reported from Helmand or Kandahar provinces, even though Helmand and Kandahar witnessed heavy fighting this past spring.

The Detained-Killed reports indicated Afghan/Coalition Forces never initiated hostilities. For example, "insurgents fired on the security force [and] the force returned fire." Elsewhere, "insurgents engaged the security force with small-arms fire, [so] the force returned fire, killing the insurgents." In other operations, a man "fired on security forces from behind the women and children, [then] two other insurgents fired at the security force." These AFPS descriptions give one the impression that Afghan/Coalition Forces had no choice but to respond. Aside from one instance where Afghan/Coalition Forces ordered an airstrike against "insurgents [who] were planting two roadside bombs," ACF never initiated combat during the month of March 2012, according to these Detained-Killed reports. These reports are also valuable for what they omit; they never mention statistics about individuals and civilians killed during night raids and bombing sorties.

The American Forces Press Service is a swamp of agitprop; it disseminates artful, literary propaganda, with no concern for truths. While analysis of March's Detained-Killed reports has yielded some hard information about the Pentagon's activities in Afghanistan, it also raises many questions about Washington's longest war. The selective content of the Detained-Killed reports – including the Pentagon's choice of vocabulary, its professed reasons for detaining and killing individuals, and large omissions about fighting in Kandahar and Helmand – is merely a crafty attempt to arrogate progress while the Pentagon solidifies its "enduring presence" in Central Asia.
Christian Sorensen for Media Roots.
Photo provided by Flickr user ISAFMedia
***