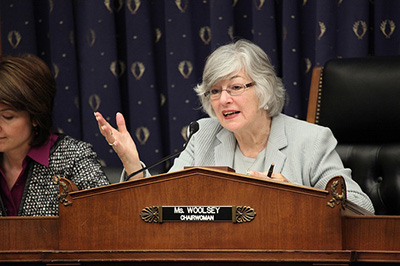 PRESS DEMOCRAT– Rep. Lynn Woolsey, D-Petaluma, delivered her 400th speech against the wars in Iraq and Afghanistan on the House floor Tuesday.

Woolsey, a former Petaluma city councilwoman who was elected to Congress in 1992, began by noting that her series of anti-war speeches — delivered every day Congress was in session — began in April 2004, a year after the invasion of Iraq.

"And so since that day, I've stood here in this spot to say over and over again that these wars are eroding our spiritual core; bankrupting us morally and fiscally; teaching our children that warfare is 'the new normal,'" she said.

Woolsey noted that the Iraq war and former President Bush were "quite popular" in 2004, but that "gradually, the tide of public opinion turned."
Read the full article about Woolsey Gives 400th Anti-War Speech.
© 2011 Press Democrat
Photo by Flickr User edlabordems