MEDIA ROOTS- The London riots were mostly summarized as an animalistic decline of civil society by the corporate press, with too little analysis as to what societal, political and economic factors could cause such a backlash to occur. Since there was no apparent political motivation behind the rioting, it was easy to discard the actions as indiscriminate herd looting and burning by "feral teenagers." Counterpunch writer David Harvey writes about how this breakdown is an inevitable outcome of living under a broken system of "feral capitalism," where corruption and profiteering are rampant in almost every corporate and political sector.
Abby
***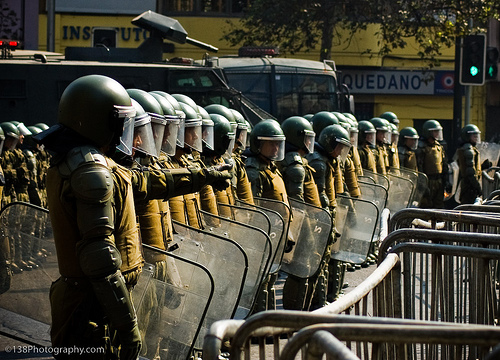 COUNTERPUNCH– "Nihilistic and feral teenagers" the Daily Mail called them: the crazy youths from all walks of life who raced around the streets mindlessly and desperately hurling bricks, stones and bottles at the cops while looting here and setting bonfires there, leading the authorities on a merry chase of catch-as-catch-can as they tweeted their way from one strategic target to another.

The word "feral" pulled me up short. It reminded me of how the communards in Paris in 1871 were depicted as wild animals, as hyenas, that deserved to be (and often were) summarily executed in the name of the sanctity of private property, morality, religion, and the family. But then the word conjured up another association: Tony Blair attacking the "feral media," having for so long been comfortably lodged in the left pocket of Rupert Murdoch only later to be substituted as Murdoch reached into his right pocket to pluck out David Cameron.

There will of course be the usual hysterical debate between those prone to view the riots as a matter of pure, unbridled and inexcusable criminality, and those anxious to contextualize events against a background of bad policing; continuing racism and unjustified persecution of youths and minorities; mass unemployment of the young; burgeoning social deprivation; and a mindless politics of austerity that has nothing to do with economics and everything to do with the perpetuation and consolidation of personal wealth and power. Some may even get around to condemning the meaningless and alienating qualities of so many jobs and so much of daily life in the midst of immense but unevenly distributed potentiality for human flourishing.

If we are lucky, we will have commissions and reports to say all over again what was said of Brixton and Toxteth in the Thatcher years. I say 'lucky' because the feral instincts of the current Prime Minister seem more attuned to turn on the water cannons, to call in the tear gas brigade and use the rubber bullets while pontificating unctuously about the loss of moral compass, the decline of civility and the sad deterioration of family values and discipline among errant youths.

But the problem is that we live in a society where capitalism itself has become rampantly feral. Feral politicians cheat on their expenses, feral bankers plunder the public purse for all its worth, CEOs, hedge fund operators and private equity geniuses loot the world of wealth, telephone and credit card companies load mysterious charges on everyone's bills, shopkeepers price gouge, and, at the drop of a hat swindlers and scam artists get to practice three-card monte right up into the highest echelons of the corporate and political world.
Read the full article about Feral Capitalism Hits the Streets.
Written by David Harvey
© 2011 Counterpunch
Photo by Flickr user 138_photo