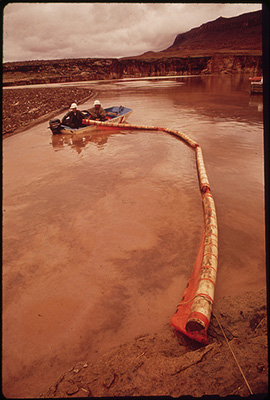 THE GUARDIAN– Oil from a ruptured ExxonMobil pipeline on the famed Yellowstone spread at least 15 miles beyond the initial leak – further than the oil company's original estimates.

Clean-up crews have yet to reach the break in the 12-inch pipeline because of historic flooding on the river, which is projected to peak on Tuesday.

Montana's governor, Brian Schweitzer, who was due to visit areas near the spill site on Tuesday, has called for a safety inspection of all pipelines crossing the state and a review of the company's emergency response plans.

In its latest update, ExxonMobil said it was expanding its clean-up effort, deploying 280 people to help contain the damage. It was also conducting aerial searches for oil as far as 140 miles downstream.

But the firm said on its website that flooding, and swift river currents, meant it was still unsafe to send crews out in boats or to walk the banks in search of oil. It's not clear whether the break was caused by heavy rains and extreme flooding.

"The river is well over its banks, very turbulent," Gary Pruessing, head of ExxonMobil's pipeline company, told a news conference on Monday. "I've never seen the river like this in my life."
Read the full article about Yellowstone River Oil Spill Spreads.
© 2011 The Guardian
Photo by Flickr user usnationalarchives