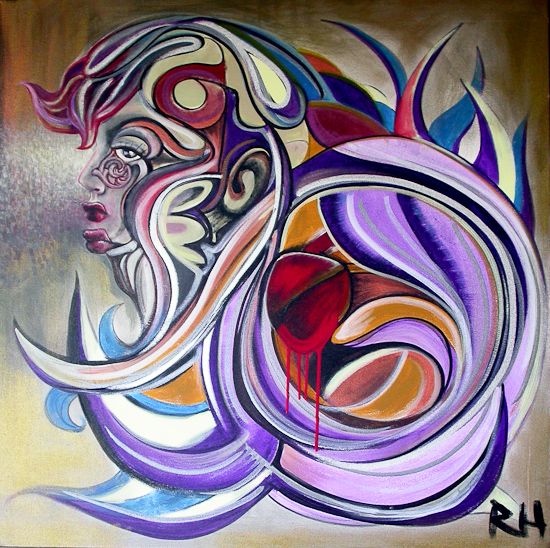 Cyclone
36″ x 36″ Acrylic and oil on canvas
"Through the expression of self I accept the different realities that exist through the masks people wear, the thoughts people think, the perspectives people see. Art opens pathways from inspiring emotions to watering the seed of evolution, it cannot be kept contained its roots are too far planted into the sediments of humanity." -Robert Harris
San Francisco based artist Robert Harris's artistic expressions are threaded into the blanket of human existence and are intended to inspire those who are willing to look within themselves and participate in the evolution of life. Media Roots recently conducted an exclusive interview with Robert about his style and artistic endeavors.
MR: How did you get started in art and how did you develop your style of painting?

RH: Art has always been a way of life. Throughout the years I have felt a necessity to create art. It began with drawing and discovering that I had the ability to make something out of nothing. I have made it a personal goal to dive deeper into my creative potential and continuously refine my the technical execution of my art making. A vital moment for defining my style was during a two year period where I sheltered myself from distractions and made art without the influence of other art around me. The common thread within my artwork is to inspire new perspectives and stimulate growth and change. As and artist I take responsibility as a social explorer, visionary and leader.
MR: What mediums do you work with?
RH: I see an endless potential around art and all the materials that may be used in the creation process. I am not bound by any one materials or medium. I open to all materials as long as I can use them to shape and mold my vision.
MR: What is your favorite kind of art to work with and how do you interpret some of your favorite pieces?
RH: Visual art is like music. My favorite art depend on my mood or what is currently happening in my life. Generally speaking I enjoy art that is emotive and also technically sound.
MR: Where do you DJ and how can people find you and your art in the bay area?
RH: Recently I have been focused on commissioned artwork. Additionally, I serve as a visual DJ though live art performances at special events including, but not limited to: wine tasting parties, celebrity concerts, art store openings, non-profit fundraisers, night club promotions, and business gatherings.
Art video promo by Robert D Harris from Robert harris on Vimeo.
This art video features the work of Robert D. Harris. The artwork creates beauty with color and intends to inspire peoples consciousness. Look for the artist showing work in San Francisco, Los Angeles, San Diego, New York, Miami, ect.
To learn more about Robert Harris and to check out more of his art visit www.robertdharris.com