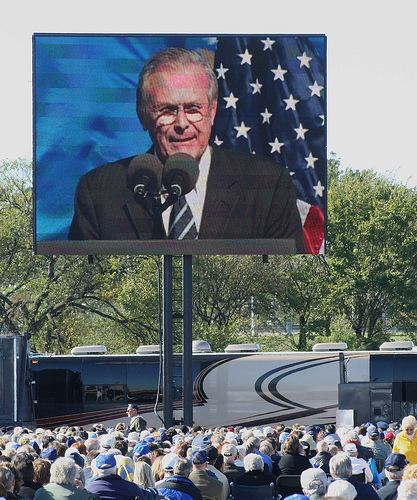 LA TIMES– Defense Secretary Donald H. Rumsfeld on Friday criticized a U.S. military program that pays Iraqi newspapers to plant stories favorable to the American mission, and mistakenly said the Pentagon had shut down the program shortly after its existence was revealed.
In his most specific comments thus far about the information operations program, — carried out by U.S. troops and a private contractor — Rumsfeld said the U.S. military should not be paying Iraqi media to publish articles, whose origin was concealed even from the news outlets.
He said he had not been initially aware of the clandestine program, and ordered it shut down after news outlets published details of it.
"When we heard about it, we said, 'Gee, that's not what we ought to be doing,' " Rumsfeld said Friday during a taped interview on PBS' "The Charlie Rose Show."
Rumsfeld said the contractor, Lincoln Group, and commanders in Iraq were notified of the Pentagon's concerns and ended the propaganda effort. "They stopped doing that," he said.
Rumsfeld's remarks were made available by PBS producers before the show aired late Friday night. One person familiar with Lincoln Group's operations, who spoke on condition of anonymity because of an ongoing investigation, said the program in Iraq was still active as of a week ago.
Read more at LA TIMES.
© LA TIMES 2006
Photo by flickr user DBKing