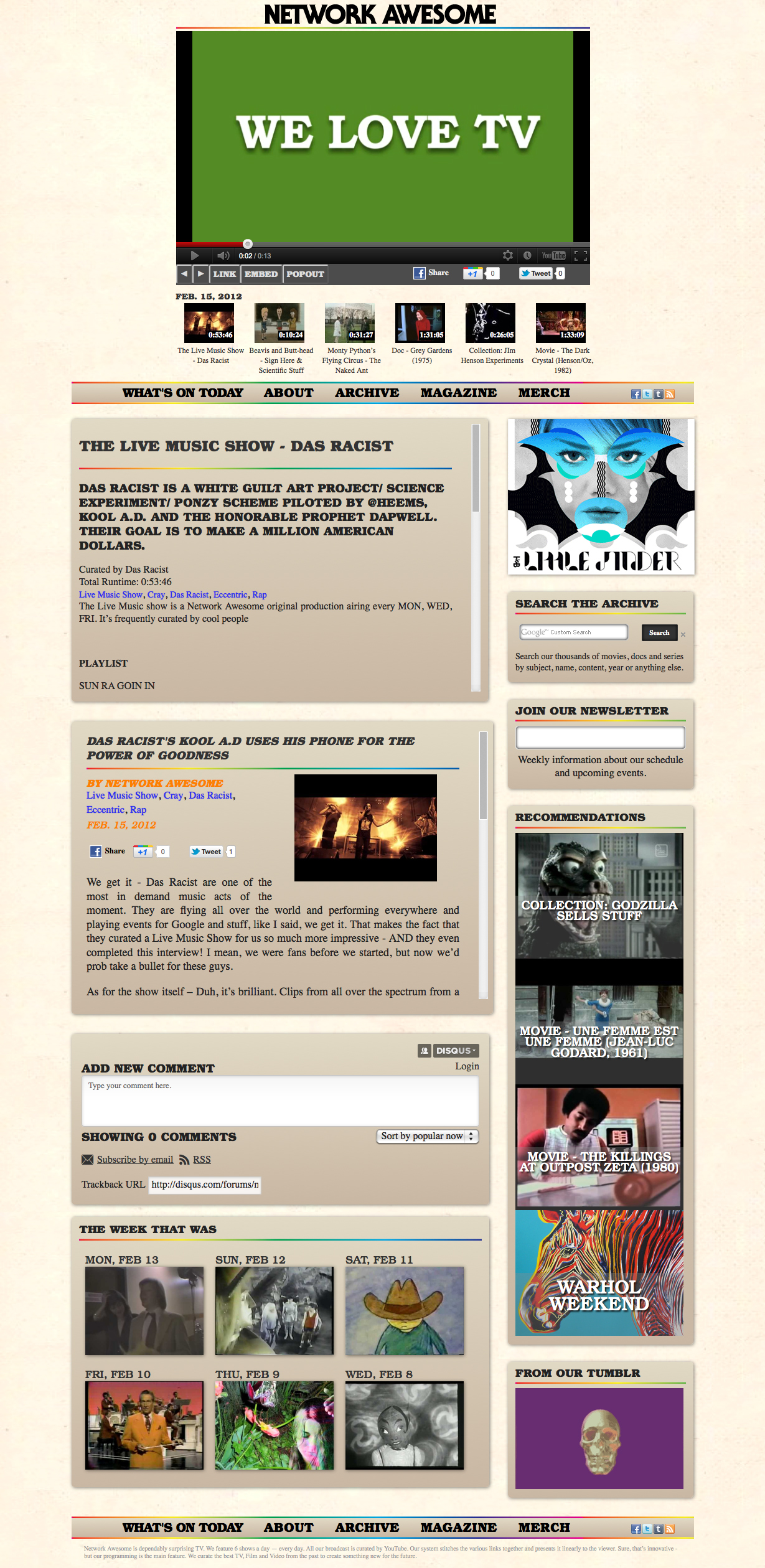 MEDIA ROOTS — Jason Forrest's name used to be synonymous with the electronic music genre breakcore and with expert remixing and plunderphonics under his own name as well as the alias, "Donna Summer" (possibly to confuse unsuspecting Donna Summer fans in record stores). For the last decade, Forrest has run his own record label 'Cock Rock Disco.' He now resides in Germany and has founded, and now maintains, with the help of many volunteer workers, the net's best curated internet video repository, Network Awesome.
***

Media Roots: "What is Network Awesome?"

Jason Forrest: "Network Awesome is a website that broadcasts six video programs a day. These programs can be collections of music based on a theme, or whole movies, or documentaries, or anything else. All the shows then go into an archive that's organized by theme, type, style, etcetera. Or, in other words, we're like a TV station, but online, free, and damn good."

MR: "I heard of you in the form of 'Donna Summer' when I first visited New York. I asked the store clerk at Kim's Video if they carried any really good local electronic music and she handed me a copy of your CD—"This Needs To Be Your Style."

Jason Forrest: "Wow! That's so cool to hear! I don't think I ever really got any love from those guys before, so that feels nice!"

MR: "Since then you've been running a record label, Cock Rock Disco, and continuing with your own musical projects.
"Most recently, I have been seeing a lot about Network Awesome and watching it myself, without realizing it was ran by none other than Jason Forrest.
"How did Network Awesome start? Was it a gradual build or was there a lot of pre-planning involved?"

Jason Forrest: "I started thinking about what was to become Network Awesome back in the summer of 2010. After doing a lot of research on both broadcast TV Networks and also investigating a lot of online video sites (especially what works and what doesn't work), I reached out to a friend, Greg Sadetsky, to develop the idea. Then, in a mad flurry, we built the basic version of the site in about five weeks and launched it on January 1st, 2011. For the first few months we were both doing a lot of other stuff, but around May of last year we started to really focus on the site. And since then it's been one exciting thing after another!"

MR: "At first glance Network Awesome seems like a really sophisticated Youtube playlist; what makes it different than a playlist?"

Jason Forrest: "It's more like a library filled with books and each book is made of lists. We currently have over 4,200 shows that extend in pretty much all areas of culture and entertainment."

MR: "Was your history as a crate-digger/sample-sleuth valuable for scouring the internet for obscure content?"

Jason Forrest: "Great question, it actually didn't dawn on me until a few months into the project that Network Awesome acts very much in the same way that my previous music did. But while we do play a lot of lesser-known media, I know that it is not our agenda at Network Awesome to be obscure."

MR: "You have great video categories like 'jazz drumming' and even entire playlists for mostly unheard of sketch comedy shows like 'The Dana Carvey Show.' Were these your ideas originally?"

Jason Forrest: "Some were, like the Awesome Drummers show. But Network Awesome actually has something like 148 volunteers who work on the site. So, there's so many ideas flying around that I can't claim them all! Haha!"

MR: "You just answered one of my next questions. I imagine if you would do it yourself it would be a full-time job to find constant content. Any obstacles when having that much content coming in?"

Jason Forrest: "Network Awesome is getting to the point where we have so much great content that it's become a problem to organize and present it efficiently to the viewer. We just made a major design update, which has made the site so much better to stumble upon great stuff, but it's possible to improve still."

MR: "With the introduction of high end consumer multimedia, Blueray and other media players and Apple TV that have access to Netflix, Vudu, Amazon, do you think there is a place for Network Awesome in this arena? A lot of these players come with Youtube built in, but the navigation to different videos is cumbersome."

Jason Forrest: "'Cumbersome' – haha! I think of Youtube as an unbelievable public database, and while their search functions are very good, it's not an enjoyable experience. I think Network Awesome can be both compatible and competition to the sites you mentioned. And, if we continue to grow at this rate, we'll also become a force for a better quality of content as well."

MR: "By cumbersome, I was referring to the way wireless network-capable TVs and DVD players now commonly have a Youtube feature that requires a numerical remote control to search through it.
"It feels 'half-hearted' because it's far easier to just search for a video on your computer with a alphabetical keyboard. If someone just simply had a 'Network Awesome' button on this interface it would make the experience 100 times more enjoyable.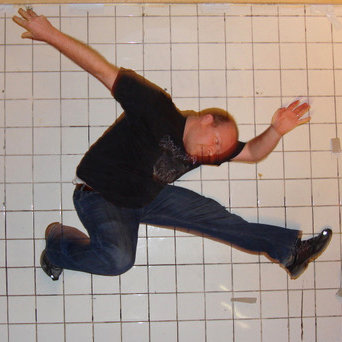 "Do you ever ponder the idea that Network Awesome is such a good concept, a big company may base a commercial product off of it?"
Jason Forrest: "That's what we're actively working towards, but we also have the belief that it's possible to make a profitable company that also supports interesting content. I think the idea that advertisers are only interested in the broadest definition of the mass market is not really true anymore. We're already starting to produce original content in collaboration with sponsors, so we feel there's a lot of potential there!"
MR: "Network Awesome caused me to have a paradigm shift where I first saw the ideal use of 'on demand' content; in the right hands, it can be an extremely powerful cultural tool. Do you agree that Network Awesome, even though it doesn't host new mainstream reality TV episodes (why would it), is one of the best curated and most complete 'niche' streaming video databases on the entire internet?

If you are too humble about the word 'best,' how would you describe it yourself?"

Jason Forrest: "It's funny; even though I started Network Awesome, I don't see it as an extension of my ego. So, I'm happy to tell people how great we are! Haha! If you take a look at the quality of what we show every day – and you compare it to the absolutely horrible state of much of broadcast TV and the many sites that focus exclusively on viral videos, then you might say we're the best thing on the internet. I mean, I like it. Haha."
Go to Network Awesome and check out the six new programs they curate daily.

Interview Conducted By Robbie Martin of Media Roots
***

Photo of Jason Forrest from Network Awesome