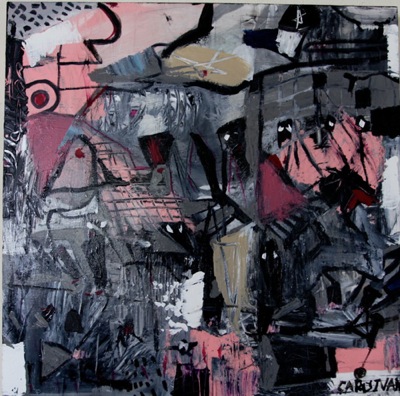 MEDIA ROOTS- Carly Ivan Garcia is a San Francisco based art curator and painter whose thriving, neo-abstract style is expressed through bold strokes and colorful palettes. Garcia's work has been shown all over the country in both solo and group shows, and many of his paintings are featured in an upcoming film called Touching Home, starring Ed Harris. Media Roots recently caught up with Garcia to get the low down on his artistic perspective and creative process.
***
MR: Hey Carly, thanks so much for taking the time to share your thoughts with Media Roots. Your style caught me right away– it is an alive expression of self. Your imagery encompasses provocative themes that can be both childlike and dark. Have you been developing this style for a long time? How did you get into it?
CIG: Well, first of all I would like to take a moment to thank everyone at Media Roots who helps to promote creative artists, like myself, and who helps to reclaim journalism through positive truth telling. So thank you, Media Roots.
I believe part of my creative endeavors grew out of a passion I had for BMX biking. At 13, I was a national champion in flatland freestlye. My experience with bike riding fueled my kinetic energy and desire to express art. In high school, I took a liking to painting and ended up spending most of my time in art class. I always felt like I had the ability to create and have always felt confident that art was a discipline I could excel in.
MR: That's awesome that your artistic expression stemmed from BMX enthusiasm! What mediums do you generally work with during the creative process?
CIG: I mostly work with oil and acrylics and find myself going back to them more often than not. With oils, I prefer the saturation of color they give. The acrylic efficiency in drying lets me paint layers on top of layers quickly. This eventually presents a unique history from within the painting that can be tracked visually. If I had to pick, I would say that oil is my top pick, but I also incorporate spray paint and watercolors in some of my work too. I like to keep my neo- modern style limitless by constantly pushing mediums and changing their conventional use. All of these mediums and ideas together creates my body of work.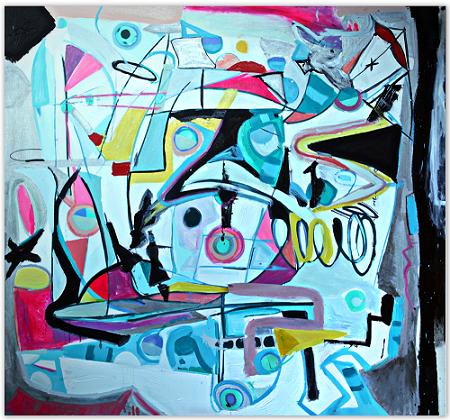 Daydream Free, 58″x60″, oil and mixed media, 2010

CIG: I created this large scale painting for solo exhibit presented by TincaArt at the Miami Art Fair Foundation in 2010. This painting is from my latest series that captures a neo- modern abstraction of an industrialized world.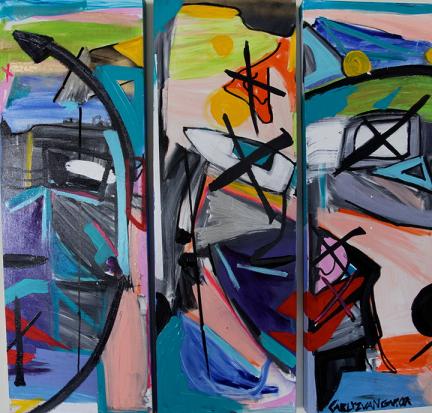 No Evil Triptych, 30″x12″, acrylic and wash, 2010
CIG: This is a painting out of a series of paintings I did on censorship for the NYCLU Just Art benefit.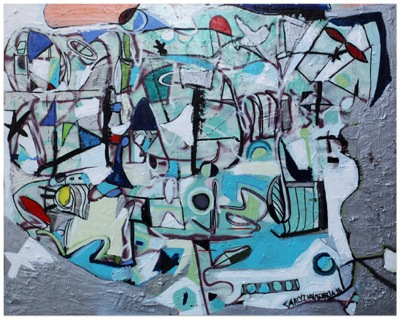 See Clear, 58″x60″, oil and mixed media, 2010
CIG: As the title suggests, I bring attention to society's assumption in appearance. This painting was also part of a series called Neo Modern Abstractions of an industrialized world.
MR: It's impressive that you are able to switch back and forth, I tend to get stuck on one and shut myself out from exploring other mediums. What is your favorite kind of art to create?
CIG: My favorite kind of art to make is the kind of work that includes a ton of color that attracts the eye- first out of instinct, but then the imagery takes you deeper into feeling or significance that may not have been felt at first glance. The beauty in my favorite kind of art work is all subjective. All art work that I like or collect must have an innate attraction- the more clever, the better.
MR: Mo' clever, mo' better fo sho. Why do you think it is so important to have independent media outlets working together to highlight community art and activism?
CIG: Independent media outlets are essential in bringing attention to artists' social and political statements that either challenge the establishment or empower communities.
MR: Do you think artists and musicians have a responsibility to reflect societal and political climates?
CIG: I strongly believe that the ultimate responsibility of contemporary artists today is to reflect societal and political climates. The most powerful artwork portrays a voice that creatively expresses basic human rights. When given a space, art manifests positive interventions. Independent media outlets are crucial in bringing attention to artists' social and political statements that either challenge or empower communities through art and activism.
MR: I agree. So how can people find you and your art in the bay area?
CIG: I'm really excited at this moment because I just had my first solo show in Hollywood CA at The FilmPunks Gallery. I also have large scale paintings that reside at The Uptown which is Oakland CA's first apartment community to be certified by the U.S. Green Building Council as ecologically-friendly. In Marin, my work can be seen at Room Interior Gallery on Fourth street in San Rafael.
***
To learn more about Carly Ivan Garcia, or to check out his work go to www.carlyivangarcia.com or go to http://fountainexhibit.com/2010/index.php/media/tinca-art.
Main photo Starry Night, art by Carly Ivan Garcia

Written by Abby Martin