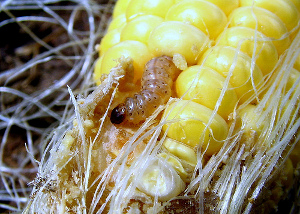 MEDIA ROOTS- If there is one thing that's been constant over the course of this planet's evolution, it's nature's resilience. Even if a pesticide is designed to eradicate a weed or insect species native to a particular area, nature will eventually bounce back and become resistant to the poison.
Similar to the heavy use of antibiotics leading to supergerms, a recent epidemic of super weeds have started to take over farmers' lands that have been spraying crops with Monsanto's Roundup Ready weedkiller. According to the president of the Arkansas Association of Conservation Districts, the built up resistance to these pesticides is "the single largest threat to production agriculture that we have ever seen."
For the first time, Monsanto's BT corn crops in Iowa are now falling prey to the very bug they're engineered to resist: the rootworm.
This could be very bad news for Monsanto, a company that has monopolized both the pesticide and genetically modified food industry for more than a decade. Since Monsanto's Roundup Ready GM seeds are engineered to withstand their Roundup Ready pesticide, American farmers have gotten accustomed to using both products hand in hand. However, if Monsanto's seeds are deemed useless, what incentive will farmers have to spend the extra money for seeds that no longer kill weeds or bugs?
Monsanto is a monolithic and ruthless corporation that will do anything to meet their bottom line of profit maximization. Hopefully this is the beginning of Monsanto's disintegration into irrelevancy. For more about Monsanto's callous domination over the global food market read Media Roots Original – Monsanto's Global Food Domination.
Abby Martin

***
WALL STREET JOURNAL– Iowa State University entomologist Aaron Gassmann's discovery that western corn rootworms in four northeast Iowa fields have evolved to resist the natural pesticide made by Monsanto's corn plant could encourage some farmers to switch to insect-proof seeds sold by competitors of the St. Louis crop biotechnology giant, and to return to spraying harsher synthetic insecticides on their fields.
"These are isolated cases, and it isn't clear how widespread the problem will become," said Dr. Gassmann in an interview. "But it is an early warning that management practices need to change."
The finding adds fuel to the race among crop biotechnology rivals to locate the next generation of genes that can protect plants from insects. Scientists at Monsanto and Syngenta AG of Basel, Switzerland, are already researching how to use a medical breakthrough called RNA interference to, among other things, make crops deadly for insects to eat. If this works, a bug munching on such a plant could ingest genetic code that turns off one of its essential genes.
Monsanto said its rootworm-resistant corn seed lines are working as it expected "on more than 99% of the acres planted with this technology" and that it is too early to know what the Iowa State University study means for farmers.
Read more about Monsanto Corn Plant Losing Bug Resistance.
© 2011 Wall Street Journal
Photo by Flickr user Hadie