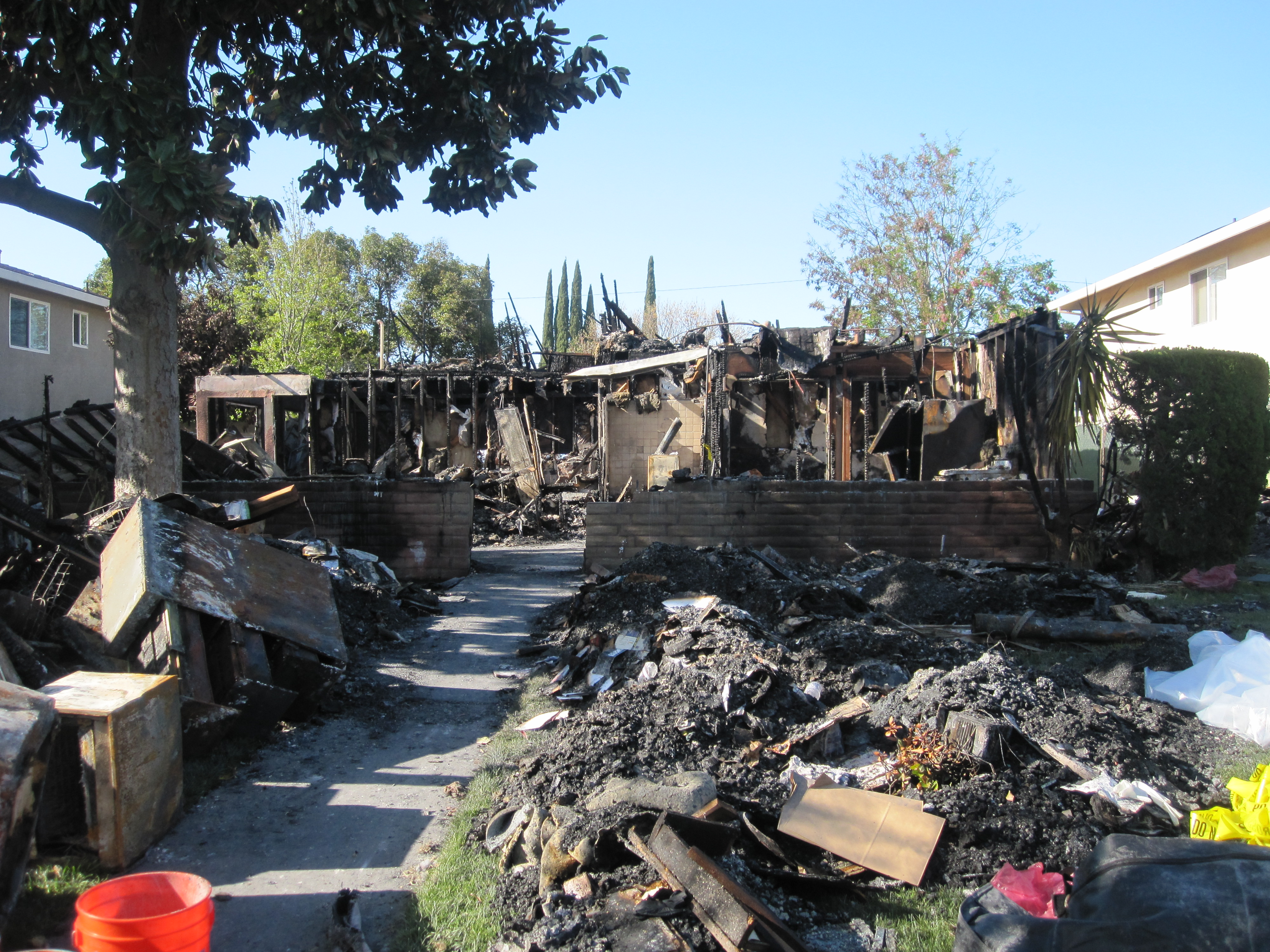 MEDIA ROOTS — In a tragic reflection of the Global Recession and crushing economic hardship across the USA, an eviction on Thursday, April 12, 2012 in Modesto, CA ended in tragedy and death after neighbours reported some twelve gunshots, leaving a locksmith and a cop dead during the eviction attempt and leading to a day-long standoff involving over a hundred cops from at least 15 agencies, as well as the FBI, ultimately ending with the entire north Modesto building being burned down, apparently by police gas and flash-bang munitions.
Although the state has claimed it was too dangerous to adequately battle the blaze in the alleged suspect's townhouse, neighbouring homes were protected. According to the Modesto Bee, Battalion Chief Hugo Patino said on his Twitter account: "Fire on Chrysler continues to burn. Structural collapse occurring. Fire crews doing a good job of protecting the exposures." Apparently, efforts were made to protect "exposures," presumably neighbours' townhouses. But the townhouse of the alleged suspect was, apparently, allowed to burn to the ground with the alleged suspect still inside.
The Modesto Bee would go on to report police were unable to determine the identity or the gender of the body found in the smouldering remains.
This story presents a terrible reminder, or sign of the times, in which an eviction, resulting from "a $15,000 home equity loan…owed to Bank of America," can provoke the most extreme circumstances of desperation and violence.
Local TV coverage was on the scene all day and drove a mantra insisting the object of the situation was to isolate the alleged suspect. There was no indication the entire day authorities attempted to contact the allegedly barricaded suspect. News reports indicated police cut electricity to the suspect's two-story home early on in the day.
Stanislaus County Sherrif Adam Christianson stated early in the afternoon, "At this point we believe the suspect is barricaded inside of the apartment complex. We don't know anything about him." Of course, neighbours were aired on TV all day describing the man as a well-known neighbour. According to Modesto Anarcho, which was live on the scene speaking with members of the community, the alleged gunman is 45-year-old James Ferrario. Apparently, Ferrario refused to give up the home his family had lived in for decades, which "was sold at an auction for just $12,988 to a shady firm, R&T Financial, that doesn't even have a listed contact number."
Helicopters, fire trucks, ambulances, Modesto Police Department, Merced Sheriff Department, and Merced Sheriff SWAT, Merced Sheriff armoured vehicles, and many troops in camouflaged fatigues on the scene were reported live on TV by KOVR 13 and KCRA 3. Some residents were standing outside on Prescott Drive trying to witness the scene, reported Derek Shore (KOVR 13) from near the Modesto intersection of Prescott & Chrysler. Reportedly, all nearby residents had been evacuated and community members were prevented from entering Chrysler where the barricaded suspect's home was located about a block or so away.
KOVR 13 reported over a hundred officers from at least 15 agencies were outside the barricaded home. Other KOVR headlines read: "Suspect may be blogging from inside apartment." "FBI called in to investigate." "Witnesses report hearing about 12 gunshots." "Suspect barricaded; extent of injuries unknown." "Bomb squad called in." "Lots of movement on the scene right now." "Eviction notice served around 11:00am" "Gunman inside opened fire; killing two."
Witnesses reported gun shots around 11:00 am, when a deputy sheriff and locksmith were serving an eviction notice on Chrysler around 11:00 am. According to other eyewitness accounts, not reported on the live TV reports, the gunman fired upon the locksmith and cop from his window, as the locksmith was drilling into the doorlocks. The unidentified eyewitness stated the gunman aimed at him as well, but didn't fire at him and allowed him to get away. That particular witness reported hearing less gunfire than other reports, so it is still unclear precisely what transpired.
KOVR reporter Mike Dello Stritto seemed to stay on a drumbeat smear campaign against the suspect reading from a blog the reporter suggested may be from the suspect. However, as noted, the suspect's electricity had been disabled. Fellow KOVR news anchors went on about how long batteries last and how powerful, and by implication, dangerous, smartphones can be if they fall into the wrong hands. The greatest fear arising from this terrible situation, according to hours of live local TV news coverage, was that the suspect may be "blogging from inside."
Although there was no indication of police attempting to contact the barricaded suspect, screen captures and quotations from an anonymous blog were flashed on the screen and read repeatedly throughout the day on the TV reports:
"I just shot me some cops, ask me anything. Hurry though, SWAT is about to bust in."
"They think that my Tahoe is rigged with explosives. That would be too obvious. I bet they're wondering where my other four cars are. They'll find out."
"It's back now. I've got a new plan. This may be my last post."
It has not been confirmed the anonymous blog quotes were made by the suspect and appear to have been a cruel hoax or worse. It's interesting KOVR TV decided to smear the suspect in this way, as this sort of insinuation seemed to function as a smear campaign against the suspect, trying him in the court of public opinion and generating antipathy toward the suspect in the public sphere. It was reported, by neighbours who knew the man being evicted, that he had a military background. Thus, it's possible the man may have been a military veteran and may have possibly suffered from post-traumatic stress disorder. But local news coverage didn't consider such realities, instead focusing on smearing and casting the suspect as a crazy or wacko.
After police arrived on the scene to respond to reports of gunshots, they fired bean bag rounds and tear gas into the two-story building on Chrysler. But this didn't succeed in driving the suspect out. At this point, the suspect may have been incapacitated or bleeding to death inside his home.
Stanislaus County Sheriff Adam Christianson said:
"Ladies and gentleman, this is another dark day for law enforcement and public safety here in California and, especially, Stanislaus County. My civil team was out serving civil process eviction notices. And in the process of doing that, we've had two people shot and killed: a deputy sheriff is dead as well as a civilian.
At this point we believe the suspect is barricaded inside of the apartment complex. We don't know anything about him. We don't know what the motive is behind this shooting. All we know is that we have two people dead and a deputy sheriff, one of my valued members of my team, is dead. At this point what we're doing is we believe we have the suspect contained. We don't know that for sure. We don't believe that there is any additional threat to public safety or the community. We have a perimeter around the apartment complex with multiple SWAT teams from multiple agencies. At this point the situation is under control. We're simply trying to determine where the suspect is at or if he's even still in the apartment.
At this point, it's a slow process. It's a slow, cautious process, as we proceed, so that hopefully nobody else is injured or killed, as a result of what's happened today. As you know, despite the harsh reality of our economic climate and the drastic budget cuts and staffing cuts I've taken, there's no excuse for this. Our thoughts and prayers go out to the families of the deputy sheriff and the civilian that were killed today. I am overwhelmingly frustrated with the fact that we don't have sufficient resources to protect the community. Thank you."
So, there was no indication of any attempts to communicate or even identify the suspect. And for the rest of the day there were no further reports of gunshots.
Also, Christianson's press statement presented conflicting statements:
"At this point we believe the suspect is barricaded inside of the apartment complex. We don't know anything about him."
Of course, neighbours were aired all day describing the man as a well-known neighbour, 45-year-old James Ferrario.
Christianson stated:
"At this point, what we're doing is we believe we have the suspect contained. We don't know that for sure. We don't believe that there is any additional threat to public safety or the community.'
Throughout the day, despite ongoing live TV coverage, there was no indication police made any effort to communicate with the suspect. KOVR emphasised the state protocol to isolate the suspect, that his elecricity had been cut off, that his windows had been broken in by police tear gas canisters and bean bag rounds.
Ultimately, The Modesto Bee reported the building had been set on fire and was beginning to collapse after the raging fire was allowed to burn with the suspect inside.
The Modesto Bee reported: "The suspect was believed to be on the first floor. It was not clear how the fire began, but Stanislaus County Sheriff Adam Christianson acknowledged that a combination of flash-bang devices and tear gas could have been responsible."
Initially, Stanislaus County Sheriff Adam Christianson stated it was possible the gas and flash-bang munitions they fired into the building late in the evening could have started the blaze. However, later Christianson started changing his line.
Christianson stated, "We exhausted every option to try to get the suspect to surrender." Apparently, the options exhausted involving shouting "Jimmy" at the building. And when he didn't come running out, even though he may have been bleeding, or already bled, to death inside, police began firing further munitions into the building.
Earlier in the day, local TV news coverage and officials issued concerns there may be explosives inside the building. If so, why would they risk starting a fire in the building by firing further munitions into the building, especially when they hadn't succeeded in driving the suspect out earlier in the day?
This conclusion is reminiscent of the tragic 1993 siege by the state in Waco, Texas, which ended where the FBI and other authorities, under Clinton and Janet Reno, torched the compound with their assaults and, which included gas and flash-bang grenades. Of course, the state has argued the occupants themselves set the fires. But surviving occupants have blamed the state. In the Waco, Texas case, authorities completely bulldozed the remains, making further forensic investigation impossible.

Then, we recall the 1985 state bombing of the MOVE house in Philadelphia. There are enough such examples to find patterns associated with state aggression against suspects, which seem to be targeted for lethal force and are doomed to never see their day in court. It seems questionable, to say the least, rather than attempt to communicate with the Modesto individual or to identify him, to contact any family or friends in attempts to deescalate the situation, the state, as reported by KOVR Thursday, focused on 'isolating' the suspect. Yet, isolation would seem to increase the alleged suspect's level of desperation and, therefore, increase the likelihood of further violence. Certainly, the state doesn't hesitate to identify alleged suspects in other instances where the media is given vague descriptions and artist sketches and so forth to broadcast. However, there are some indications the alleged suspect may have been a military veteran. If so, this may have garnered a sympathetic response from the public, given the sad state of so many vets suffering from post-traumatic stress disorder, economic hardship, and facing unprecedented rates of suicide.
If neighbours had reported the alleged suspect as possibly having a military background, and if bean-bag rounds and tear-gas canisters fired through windows by police didn't succeed in driving the alleged suspect out in the morning, why would the state believe it would be effective at night when the public and the media were less able to witness the actions undertaken by the state? It would seem, the alleged suspect likely had counter measures, such as a gas mask. It seems redundant and/or pointless for the state to have launched another round of tear-gas and flash-bang grenades. And, yet, it seems this police assault may have caused the fires, even by Stanislaus County Sheriff Adam Christianson's own admission.

So far, we know little about this tragic situation other than about a dozen shots were fired in the morning, leaving at least two dead. And now police projectiles seem to have caused a blaze and burned the building to the ground with the alleged suspect inside, as the state looked on and let it burn, as if in vindictive retaliation.

It's possible the alleged suspect fired in self-defence. He may have fired a warning shot as the locksmith drilled through the locks, which provoked the Deputy to inciting further gun battle. With the building in smouldering ashes, it's unlikely we'll know what really happened here in Modesto. Often, the public's attention span moves on quickly and loses interest in follow-through investigations. And the push seems to be to rush to judgement. Various commentators on the Modesto Bee web page were of the opinion the alleged suspect must be guilty because the state says so and, therefore, does not deserve the rule of law or a trial before a jury of his peers. The state knows very well, such evictions, foreclosures, and repossessions provoke intense emotions, as the nation suffers the worst economic austerity since the Great Depression.

We must be able to recognise the precedents and implications this type of state response to socioeconomic desperation portends for all of us. If police decide to raid any home they wish, perhaps activists or others, they can shoot and lay siege to one's home, and insure the matter will never go to trial. They can burn a house down or bomb it completely, as done in 1985 with the MOVE house. They can operate with impunity. And many say, that was just some 'wacko' who deserved it. But, first, they come for the so-called 'wackos.' Then they come for dissidents. Then they come for you. Fascism is the logical conclusion of unchecked state power.

Pending a thorough investigation of this case, we'll have to wait and see what actually transpired in this tragic tale of socioeconomic misery, eviction, and desperation. As the press is the only Constitutionally-protected profession, perhaps a thorough investigation may be undertaken to learn how our communities may deescalate and heal such tragic episodes in our communities. However, local TV news coverage seemed more interested in parroting myopic state propaganda in this matter (focusing on a day-long smear campaign against the alleged suspect and downplaying the relevant economic crisis resulting in evictions and dramatic sagas, such as these), rather than honest reporting. We are not likely to learn the truths about our own communities by relying on commercial news coverage, which the state sanctions fit for publication, but by what grassroots citizen journalists will publish.
Written by Felipe Messina for Media Roots

***
MODESTO BEE — UPDATE – 11:32 p.m. A Modesto fire department official says the home on Chrysler Drive is starting to collapse as the fire continues to burn.

Battalion Chief Hugo Patino said on his Twitter account: "Fire on Chrysler continues to burn. Structural collapse occurring. Fire crews doing a good job of protecting the exposures."

There was no word on whether the fire had spread to any other structures.

UPDATE – 11:25 p.m. A sheriff's spokesman says investigators still don't know if a gunman holed up in a Modesto home is alive or dead. A huge fire was raging late tonight at the home on Chrysler Drive where earlier in the day a sheriff's deputy and another man were gunned down and killed.

In an interview with KCRA TV, Sgt. Anthony Bejaran said officers were not sure what the status was on the gunman.

Read more about Fire rages at Modesto house surrounded after deputy killed.
© 2012 The Modesto Bee

***

MODESTO BEE — UPDATE – 5:07 p.m. Authorities anticipate most evacuated residents will be allowed back in their homes some time this evening when investigators finish processing the exterior crime scene on Chrysler Drive.

The residents who live on either side of the suspect's unit destroyed by fire, however, may not be let back into their homes until Sunday night or Monday morning, according to Officer Chris Adams.

ATF Investigations working inside the charred home have a large amount of debris to sift through and need the space from the neighboring units to process the evidence, Adams said.
Read more about Body found in wreckage of burned out Modesto home.
© 2012 The Modesto Bee
***
CONSORTIUM NEWS — This past Thursday, a Modesto, California, man whose house was in foreclosure shot and killed the Sheriff's deputy and the locksmith who came to evict him from his condominium unit. Modesto authorities responded by sending 100 police and SWAT snipers to counter-attack, and it ended Waco-style, with the fourplex structure burning to the ground with the shooter inside.

It's not surprising that this should happen in Modesto: Last year the Central California city's foreclosure rate was the third worst in the country, with one in every 19 properties filing for foreclosure. The entire region is ravaged by unemployment, budget cuts, and blight — the only handouts that Modesto is seeing are the surplus military equipment stocks being dumped into the Modesto police department's growing arsenal.

The shooter who died was 45 years old and he appears to have lost his condominium over a $15,000 home equity loan he took out almost a decade ago, owed to Bank of America. The condo was sold at an auction for just $12,988 to a shady firm, R&T Financial, that doesn't even have a listed contact number. Too much for the former security guard, who barricaded himself in the condo which had been in the family for decades. He refused to walk out alive.

These "death by foreclosure" killings have been going on, quietly, around the country ever since the housing swindle first unraveled. Like the story of the 64-year-old Phoenix man whose daughter and grandson were preparing to move in with him after losing their home to foreclosure — only to get a knock on his door surprising him with an eviction notice on the house he'd owned for over 30 years. Bank of America foreclosed on him despite his attempts to work out a fair plan.

We now know that the same banks that had been bailed out over their subprime fraud disaster were, by the time this happened, headlong into another criminal scheme, this time foreclosure fraud. The fraud was effected both illegally and in bad faith on a scale so vast it's hard not to think that it was carried out by some marauding foreign army.

Read more about Class Warfare On Two Fronts: From Afghanistan To Middle America, The Untold Story of Sgt. Bales.

***
MODESTO ANARCHO — In the early hours of Thursday, April 12th, a Stanislaus County Sheriff, Robert Paris, a Tracy native, as well as Glendon Engert, a Modesto locksmith who was trying to bounce back after a lay-off, came to Chrysler Drive in North-West Modesto to evict someone from their home. Chrysler Drive is located off of Prescott Ave. in Modesto, nestled just to the north of Briggsmore. The housing units that the tenant, James "Jimmy" Ferrario lived in used to be part of 'Prescott Estates,' a notorious poverty stricken neighborhood known for crime, drugs, and gangs. Jimmy's father had owned the house prior to his death in 2008 but the home had slipped into foreclosure, which eviction proceedings starting on January 24th.

On April 12th however, the sheriff and locksmith were not there to serve papers or ask Jimmy to leave, they were there to evict him from the property. When the drilling started however, Ferrario fired several shots, killing both Paris and Engert, the latter who was in the midst of drilling out Ferrario's door. The early morning shooting set in motion an almost 20 hour stand off, in which dozens of residents were removed from their homes by police. Law enforcement from across Stanislaus, San Joaquin, and Merced counties as well as FBI, ATF, and US Marshalls occupied the area in droves, with a large section of Prescott being shut down and access to Chrysler Drive completely blocked. As night fell, police began firing flash bang grenades and tear gas into the home and a fire soon erupted. As Fox 40 reported:

"The Sheriff believes [the fire] was started by tear gas that officers had used to try to get the man out. Law enforcement had been monitoring the man's movement. There had been no opportunity for the man to leave, so officers believe that he is dead."

At this time, sheriffs and police claim that the area surrounding the home was evacuated (many people were forced to seek refuge in a nearby church and even spend several nights there). However, a correspondent with Modesto Anarcho who was able to gain access to the scene at Chrysler Aveune and talked with several small groups of people who were only two homes away and between rings of law enforcement that were blocking access to Ferrario's home. Not everyone had been evacuated, either by their own desire or from law enforcement incompetence or inaction. Other families were told to stay in their homes by police and were not allowed to leave. As the fire raged, even with fire department trucks looking on, it became clear that the police were letting the home burn. The morning after the shooting a charred body was found, pressumed to be Ferrario's, although an autopsy report could take weeks.
Read more about Flames Up, Officer Down: Gentrification, Eviction, and the Death of James Ferrario.
***
Photos by Felipe Messina