MEDIA ROOTS- Usually the revolving door between politicians and their corporate profiteering is shielded from the public, and takes a bit of investigative digging to expose. Often times, politicians will invest millions in blind trusts to mask their investments in companies that would reveal an obvious conflict of interest tied to their legislative work. However, Congressman Issa has set a new precedent in exploiting a political standing to blatantly racketeer off the system since his election in 2000.
Abby
***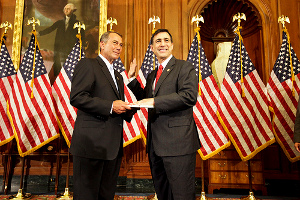 NEW YORK TIMES– Even as he has built a reputation as a forceful Congressional advocate for business, Mr. Issa has bought up office buildings, split a holding company into separate multimillion-dollar businesses, started an insurance company, traded hundreds of millions of dollars in securities, invested in overseas funds, retained an interest in his auto-alarm company and built up a family foundation.
As his private wealth and public power have grown, so too has the overlap between his private and business lives, with at least some of the congressman's government actions helping to make a rich man even richer and raising the potential for conflicts.
He has secured millions of dollars in Congressional earmarks for road work and public works projects that promise improved traffic and other benefits to the many commercial properties he owns here north of San Diego. In one case, more than $800,000 in earmarks he arranged will help widen a busy thoroughfare in front of a medical plaza he bought for $10.3 million.
His constituents cheer the prospect of easing traffic. At the same time, the value of the medical complex and other properties has soared, at least in part because of the government-sponsored road work.
But beyond specific actions that appear to have clearly benefited his businesses, Mr. Issa's interests are so varied that some of the biggest issues making their way through Congress affect him in some way.
After the forced sale of Merrill Lynch in 2008, for instance, he publicly attacked the Treasury Department's handling of the deal without mentioning that Merrill had handled hundreds of millions of dollars in investments for him and lent him many millions more.
And in an era when the auto industry's future has been a big theme of public policy, Mr. Issa has been outspoken on regulatory issues affecting car companies, while maintaining deep ties to the industry through the auto electronics company he founded, DEI Holdings.
He has a seat on its board, and his nonprofit family foundation, which seeks to encourage values like "hard work and selfless philanthropy," has earned millions from stock in DEI, which bears his initials. Mr. Issa's fortune, in fact, was built on his car alarm company, and to this day it is his deep voice on Viper alarms that warns potential burglars to "please step away from the car."
Read more about A Businessman in Congress Helps His District and Himself
© 2011 The New York Times
Photo by Flickr user Congressman Darrell Issa