MEDIA ROOTS- Anna Hazare is a social activist who is leading the anticorruption movement in India by following Mahatma Gandhi's principles of nonviolence. He received worldwide attention with a four day hunger strike in early April that led to the Indian government conceding to his demand of enacting an anti-corruption law (based on the Lokpal Bill) for those holding public office.
On July 28, the Parliament approved a draft of the Lokpal Bill, which excluded the Prime Minister, judiciary and lower bureaucracy from the scope of proposed corruption. Hazare discounted the draft and announced that he would embark on an indefinite hunger strike starting August 16 until proper provisions were made to the legislation. After a brief arrest, Hazare started his strike a week ago and he is garnering support from millions across the country. Regardless of what the outcome of the strike may be, it is exciting to see a figure making corrupt politicians pay attention by practicing Gandhi's satyagraha methods. Hopefully his method starts a ripple effect…
Abby
***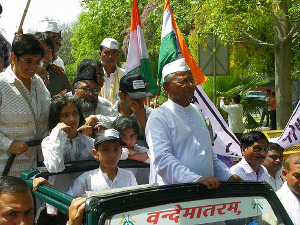 THE HINDU– Over 100 supporters of social activist Anna Hazare staged a dharna in front of the rented house of Prime Minister Manmohan Singh at Sarumotoria here on Monday. They beat drums, shouted slogans Anna Hazare zindabad and in support of the demand for tabling the Jan Lokpal Bill in Parliament.
The rented house of Dr. Singh, a Rajya Sabha member from this State, is owned by Hemoprova Saikia, former Assam Minister and wife of the former Chief Minister, Hiteswar Saikia.
Police arrived at the spot but Anna's supporters dispersed peacefully after about half an hour. The protesters included Guwahati BJP MP Bijoya Chakravarty's daughter and award-winning filmmaker Suman Haripriya and son Ranajit Chakravarty, a lawyer.
Security has been beefed up at Dr. Singh's residence in the wake of the protests.
Anna's supporters staged a dharna in front of the residence of the BJP MP also. However, there were no reports of demonstration in front of the houses of other MPs from Assam.
© 2011 The Hindu
Photo by Flickr user vm2827