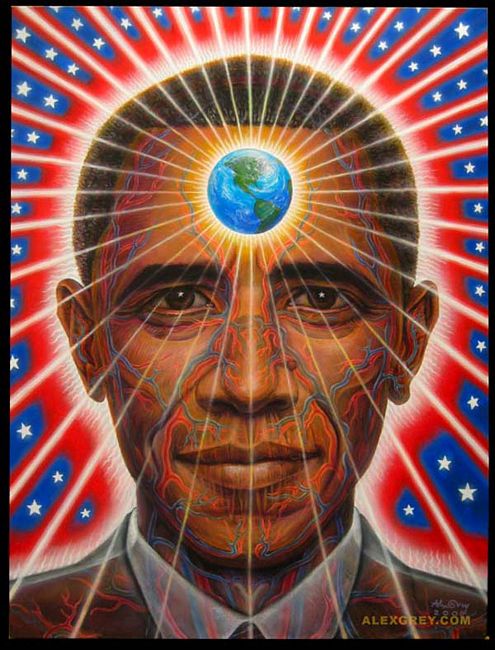 Obama, Anatomy of a World Leader
by Alex Grey

"After hearing Barack Obama's speech in Berlin, and noting the degree of excitement and hope that he generated throughout many countries besides the US, I started to see him as one of the first true "world leaders." This may be partly because of his extraordinary childhood and political life that has bridged many cultures. Obama's restraint and intelligence, exhibited as foes were bating him throughout the campaign, his heartful clarity coming through in his talks are all qualities of a highly evolved person. We need to consider our planetary citizenship, because solving the world's ecological and economic problems, and creating a culture of peace and reconciliation will require the co-operation of all nations. Perhaps you can use this symbol of Barack Obama to send him a prayer of support, to send all the loving hopeful healing and creative energy that we can focus on him so that he can perform the task of leadership in the most effective and powerful way for the greatest good, for the greatest number."

MEDIA ROOTS – The above statement is Alex Grey's interpretation of his Obama painting. How can an artist like Alex Grey, one who has supposedly superseded this physical realm, idolize Obama as some sort of spiritual leader? Most of Alex's art reflects the true essence of our beings by displaying consciousness as a universal energy that we and all living things on this planet share, breaking down the physical reality of our perception of self and body. But the sitting president's existence in the current political arena serves to bolster a physical illusion that divides the people and cloaks the real power that we humans have within.
Alex calls Obama a "highly evolved person." Would a highly evolved person be engaging in covert bombing campaigns in multiple countries, killing innocent civilians on a daily basis? Would a highly evolved person be expanding the war machine at the same rate if not more as the Bush administration while spending all of the taxpayer's money on the military industrial complex as people continue to lose their homes and businesses? Would a highly evolved person reject fundamental rights of due process for human beings and support the continuation and expansion of draconian measures that strip away our civil liberties? Would they award BP with more government contracts after they are responsible for the worst environmental crisis in our nation's history?
When I think of highly evolved characteristics, I think of Gandhi or Martin Luther King Jr., and countless others who have declared that violence, destruction and death aren't necessary means to any end goal. It is more than disappointing that Alex got sucked into the Obama hype and chose to reflect our president as a spiritual symbol instead of a figurehead to an inherently corrupt and violent machine that has continuously propagandized and manipulated the masses of this country while perpetrating aggression all over the world. Other pieces of Alex's art display the energetic spirit of consciousness and contain an ultimate truth – a truth that is much more profound than any one puppet. Let's hope he taps back into that.
Abby