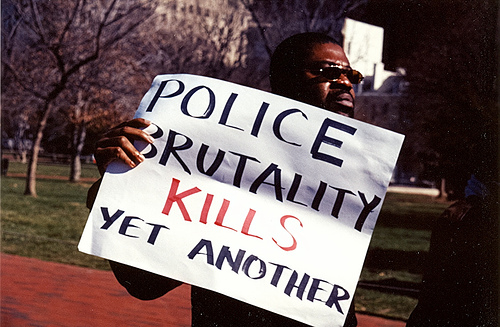 MEDIA ROOTS — You've likely heard of Scott Olsen, the Iraq War veteran shot in the head by a police tear gas canister at point blank range during the nationwide crackdown on the Occupy Movement. The tragic event transformed him into an international symbol of police brutality, and it continues to be an important story signifying state repression.
Yet, you probably haven't heard of Kenneth Harding. His story wasn't featured on Democracy Now! and was scarcely covered in the progressive press. However, the story of Kenneth Harding is as tragic and damning as that of Scott Olsen, Oscar Grant, Rodney King, or any number of people who have experienced the raw fist and boot of the US police state.
Kenneth Harding is another U.S. citizen dishonoured by his nation who was gunned down in cold blood by S.F. police this past summer. S.F. police then blocked anyone from offering the gasping and dying Harding first aid as he bled to death before a crowd of hundreds left in aghast.
Harding's mother spoke with "The Morning Mix with JR" on KPFA last week to talk about an event she was organising to raise awareness around the murder of her son and push for an investigation to bring the killer cops to justice. (See transcript below.)
In another related story of unwarranted police killing, another man was recently brutally gunned down in Monterey Park, CA outside of a restaurant by one of a swarm of cops apprehending the man who had broken some windows with a metal bar. Instead of collectively overpowering the man with their bare hands or waiting for back-up, one murderous cop lunges forward and shoots him, point blank, almost ten times, completely unprovoked, leaving Steven Rodriguez dead.
In story after story, cops seems to be malfunctioning, losing their cool with their weapons, degenerating into wanton murder. Unwarranted police aggression and their use of deadly force over the decades, poorly covered by corporate media, has conditioned many in the U.S. to seemingly accept and condone such lawlessness from police forces.
As the corporate media parroted police disinformation surrounding the Kenneth Harding story, the San Francisco Bayview National Black Newspaper documented the events from a grassroots perspective:
"When police stopped a teenager stepping off the T-train yesterday [16 Jul 2011] to show his transfer as proof he'd paid his fare – $2 at most – he ran from them. They shot him as many as 10 times in the back and neck, according to witnesses. For many long minutes, as a crowd watched in horror, the boy, who had fallen to the sidewalk a block away, lay in a quickly growing pool of blood writhing in pain and trying to lift himself up as the cops trained their guns on him and threatened bystanders."
One M.D.s Letter to the SF Examiner Editor wrote:
"I take exception to reports describing Kenneth Harding lying dead on the Bayview sidewalk. I have reviewed at least five videos which document him laying face down in a pool of blood and arching his neck in an attempt to breathe.

San Francisco police officers are trained in CPR, emergency airway management and first aid. A simple and humane maneuver might have been to simply roll him over on his back and apply a compression dressing to the wound in his neck."

—Ahimsa Porter Sumchai, M.D. San Francisco
Kenneth Harding "laying face down in a pool of blood and arching his neck in an attempt to breathe."
Attorney for Harding's family, Adante Pointer, discussed the glaring contradictions between "police department's shifting stories" about the murder of Kenneth Harding by police and the accounts of hundreds of witnesses, many of which tried to administer first aid or get help, but were kept at bay by silent, cocked-and-loaded, cops brandishing firepower. No one wanted to be next in some of the most dramatic minutes of U.S. history since Oscar Grant was gunned down in cold blood by BART police.
As expected, the murderer cop in that case, Johannes Mehserle, was not administered a punishment commensurate with the crime of murder. Instead, he was given a slap on the wrist and a mere one year jail sentence. In the case of Kenneth Harding's murder, we haven't even seen the names of the guilty cops. But Kenneth Harding's mother continues to seek justice with the help of the SF Bayview community and independent, grassroots media to illuminate the struggle for justice around police terorrism.
***
THE MORNING MIX WITH JR — "You are listening to The Morning Mix. Good morning ladies and gentleman. I am your host, The Minister of Information, JR. Today, we will be talking about the unjustified murder of unarmed young Black man, Kenneth Harding in San Francisco and the upcoming protest to shut down 3rd Street in San Francisco this Sunday [22 Jan 2012].
"We'll talk about the plight of the Black Farmers in California as well as the Black International Film Festival and the upcoming Carter G. Woodson Bowl, a.k.a. Black Jeopardy. All of this after the news."
JR (c. 7:05): "We are back. I am your host, the Minister of Information JR, for The Morning Mix. Today, we will talk about the Carter G. Woodson Black History Bowl, a.k.a. Black Jeopardy. We will talk about the Oakland International Film Festival. We will also talk about the plight of the Black farmers in California.
"But, first, we need to address these unjustified police murders of unarmed people in the Black community all over the United States.
"Our next guest is the mother of Kenneth Harding, 19-year old unarmed Black man who was shot in mid-July [2011] over a $2 dollar bus transfer by the San Francisco Police Department. We have his mother live in the studio today. Her name is Denika Chatman.
"How are you Miss Denika?"
Denika Chatman (c. 7:58): "I'm good. Thank you for asking."
JR (c. 8:00): "Can you tell the people a little bit about your son, Kenneth Harding? Who was Kenneth Harding before he was murdered by the San Francisco Police Department in such an atrocious way?"
Denika Chatman (c. 8:12): "My son was very filled with life. He was the life of the party. He could go anywhere and fit in. He loved life. And he was a college student, set to start college last fall. He was an entertainer. He was out here [in the S.F. Bay Area] trying to get his music out. And he was very family oriented. He loved his mother. He loved his brother. He loved his sister. And he loved the Lord."
JR (c. 8:45): "Can you tell the people a little bit about what happened in the middle of July [2011]."
Denika Chatman (c. 8:51): "Yes. My son, Kenny, he was on a T-train in San Francisco, Muni Transit. And the police, pretty much, racially profiled him, approached him, asked him to supply proof of purchase of transfer for being on the train. And when he didn't supply it, they removed him from the train where at that time he, just, had sat for a moment and then he took off running. And while he was running, he was running with his hands up.
"And they still shot him down and allowed him to lay in the streets for over 28 minutes while he bled out and died. They wouldn't allow the paramedics through to try to help him.
"And, basically, I feel like he was ambushed because they came at him from two different directions over a $2 transit fare.
JR (c. 9:47): "I just want to put it out there that this is on YouTube. They can put Kenneth Harding into YouTube and this will come up."
Denika Chatman (c. 9:56): "That is correct. There was over 150 people out there that day. So, everybody pulled out their phones and started recording. And that's why there are so many videos of my son's death on there.
"And I've never seen it. I don't want to see it. But I do get the sympathy calls and support from everyone else who has seen them."
JR (c. 10:19): "What's been going on since in the community of Hunter's Point where this occurred? What's been going on since with people, such as Fly Benzo and Kilo and different people who support you?"
Denika Chatman (c. 10:33): "That's where the majority of my support comes from. As far as Fly, him and his brother Pladee have been assaulted, hospitalised, incarcerated for speaking openly about what they witnessed on that day and for still speaking out in regards to it, which I don't understand because there's also a YouTube of what happened to Fly Benzo. And I don't understand why the courts won't just use that as evidence and see what actually occurred on that day and that the police provoked all of this and just drop the charges.
"And that's why I endorse his campaign. Free Fly Benzo. His brother Pladee, he was assaulted as well.
"Kilo Perry, the police have harassed him on several occasions; he has been incarcerated for speaking out for the murder of my son, for what he saw the police do."
JR (c. 11:29): "Isn't the San Francisco Police Department pushing charges that could result in Fly Benzo, otherwise known as Debray Carpenter, where he could be facing years in prison?"
Denika Chatman (c. 11:43): "That is correct. And I carry a lot of the guilt behind that because the battle he's fighting is because he stood up for what he felt wasn't right, the injustice done to my son. And because of that he is looking at a lot of prison time. And that's why I'm fighting so hard for him on his side in solidarity because something has to be done. And he shouldn't have to go through this behind speaking out against injustice.
JR (c. 12:20): "Can you talk a little bit about what you guys have going on January 22nd?"
Denika Chatman (c. 12:24): "Yeah. On January 22nd, we are having a peaceful protest march and rally starting at 3rd Street and Oakdale, my son's murder spot. That is San Francisco.
"And we are marching over to Candlestick Stadium to surround it. It's the NFC Playoff Championship Game and we know that the 49ers are gonna make it there. So, we're just trying to bring awareness to the game-goers that, 'We don't have no problem with you enjoying your game. We're not even trying to disrupt the game. We just want to bring awareness that right outside of this stadium, the police are killing our children.'
JR (c. 13:08): "Right. Can you also talk a little bit about this concert that you have comin' up?"
Denika Chatman (c. 13:13): "Yes. I can touch on it. We're having a big benefit concert for my son on February 10th. And I'll just list a couple of the artists who will be there: The Jacka, J-Diggs, Mac Mall, Turf Talk, Beeda Weeda."
JR (c. 13:33): "And this is at 330 Ritch in San Francisco."
Denika Chatman (c. 13:36): "Yes. Everything is still being collaborated, put together, so we're just waiting on finalisation right now. But everything is approved to go."
JR (c. 13:49): "How has the police been responding to you and your family since this murder occurred?"
Denika Chatman (c. 13:54): "Well, I went down to the Office of Citizen Complaints in San Francisco to turn in my complaint. At that time, I had only been in my new home for not even ten days. And at that time they were the only ones who had my address, my physical address, because I had to put it on the paperwork. And within three to five days my home address was listed under Google with step-by-step directions on how to get to my home.
"And I haven't had any interactions with the police. However, they still haven't been forthcoming with any of the evidence, or the videotapes, or anything to prove that they did a righteous kill."
JR (c. 14:40): "If people would like to help you and your supporters and would like to help fight police terrorism in aiding the people who are supporting Kenneth Harding, where can they do that and how can they do that?"
Denika Chatman (c. 14:55): "Well, we just established the Kenneth Harding, Jr. Foundation. If you would like to support, you can come to our meetings, you can also follow me on Facebook at Justice 4 Kenneth Harding Jr. And you can actually see everything that we've done up until this point as well as find out all the upcoming events and also posted on the page, anything that's needed or anything that has to do with the Foundation we post it up there, so that if people want to participate or become part of his Committee. They are welcome to do so."
JR (c. 15:40): "Well, Denika, I just want to salute you for standing on the front line when you've faced such an atrocity to your own family, the atrocious murder of your own son by somebody who was a so-called public servant.
"Do we know the name of the police officer that killed your son?"
Denika Chatman (c. 15:59): "There were actually four of them. And all their names are listed on the Justice 4 Kenneth Harding, Jr. site as well."
JR (c. 16:06): "Well, thank you for standing on that front line. We appreciate your strength and your commitment and dedication. And you know the Block Report is behind you."
Denika Chatman (c. 16:16): "Bless you, JR. I also want to thank you for being a part of my son's Board, being part of our Foundation.
"And one thing that a lot of people don't know, they can go get the new issue of the Bayview Newspaper, read my story. It's called 'Picking Up the Pieces.' And on there, I'm actually giving shouts out to you for coming to Seattle to see about me and my family after all of this occurred, for you for being on the front line with me in supporting me throughout all of this, to all my front-runners who are still standing on the front line, who didn't allow the police to get to them and silence them. Kilo Perry, Fly Benzo, Pladee Clayton, all o' ya'll. I just wanna thank my true soldiers."
JR (c. 17:05): "Well, right on. Salute. Thank you for coming in."
Denika Chatman (c. 17:08): "Thank you for having me."
***
Writing, transcript by Felipe Messina for Media Roots
Photo by ElvertBarnes