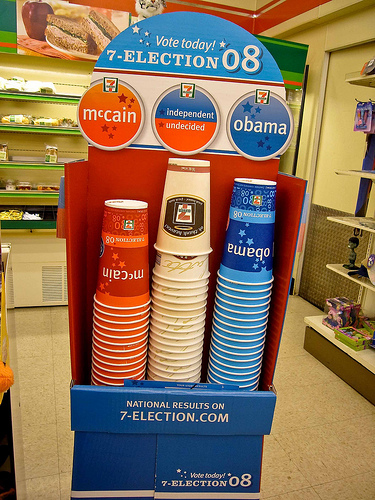 MEDIA ROOTS – For the third straight election, an international convenience store chain is now offering coffee cups featuring President Barack Obama and Governor Mitt Romney. The unscientific poll currently claims to hold Obama over Romney, 58 to 42 percent respectively.

The marketing ploy has been labeled "7-Election" and offers cups featuring only the two establishment candidates running for office. However, several additional candidates continue to actively run while still not taken seriously by corporate establishments. Below are grassroots campaigns that voters might also consider to support this November despite them not having their face stamped on cups of joe.

Gary Johnson / Jim Gray – Libertarian Party

Johnson is the sanest man running for president, according to GQ. He's on the ballot in 47 states and believes the federal government spends too much because it does too much, such as subsidizing public energy resources and prolonging warfare.

Rocky Anderson / Luis Rodriguez – Justice Party

The former mayor of Salt Lake City wishes to create a watchdog agency, instead re-enlisting Congress, to oversee the Federal Reserve while raising the federal minimum wage without first halting inflation.

Rosanne Barr / Cindy Sheehan – Peace and Freedom Party

Barr calls for an end to the prohibition of marijuana, rejects continued war support for Israel, and supported Sheehan's congressional campaign in 2008. But who will run with Barr now that Sheehan has resigned from the campaign?

Dr. Jill Stein / Cheri Honkala – Green Party

This team has based their campaign around their Green New Deal and wishes to create millions of green jobs. But Dr. Stein admits a vote for her would "take votes away from Obama who would be better for the 99% than Romney."

Virgil Goode / Jim Clymer – Constitution Party

Goode does support an audit of the Federal Reserve but believes that "legal immigration must be reduced not increased." He rejects Obamacare and continued funding of Planned Parenthood but does support capital punishment, the utilization of nuclear power, and the expansion of domestic oil drilling opportunities.

The campaign of Dr. Ron Paul is now over with the official selection of Mitt Romney for the Republican Party's ticket.

***

Oscar Mosko for Media Roots.

Photo provided by Flickr user sashafatcat.