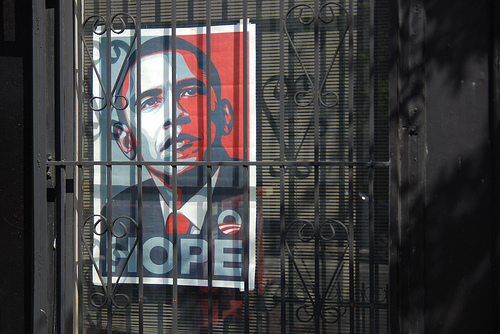 MEDIA ROOTS – Daniel Ellsberg is now advising voters in swing states to vote for President Obama in next month's election. The unquestionable patriot that leaked the Pentagon Papers is thus often credited with initiating the end of the war in Vietnam. Mr. Ellsberg has since helped organize several major antiwar demonstrations thus it seems peculiar for him to support an administration directly responsible for hundreds of drone assassinations, the continued operation of unlawful military detention centers, pardoning known torturers, and prosecuting whistleblowers such as Bradley Manning.
"I don't 'support Obama.'" Ellsberg clarified in an opinion article last Thursday. "I oppose the current Republican Party." Echoing the recent words of Professor Noam Chomsky, he adds, "if I were a person in a swing state, I'd vote against Romney/Ryan, which means voting for Obama because there's no other choice." While this may have been sound advice of yesteryear, today this is simply forfeiture to the modern political duopoly funded by nearly identical corporate entities.
Ellsberg then continues to preach that "the only way for progressives and Democrats to block Romney from office, at this date, is to persuade enough people in swing states to vote for Obama." While also ironic, this statement is alienating to all progressives who do not consider themselves Democrat. For instance, the majority of those whom continue to support Dr. Ron Paul would likely consider themselves progressives for the congressman's continued stance against undeclared wars and the unconstitutional Federal Reserve Bank. And as President Obama continues to escalate Bush-era policy, it is puzzling to understand how his administration could be considered progressive in the first place.
To further discourage third-party voters, Ellsberg specifically calls out those in swing states that might be considering a vote for anyone but Obama or Romney. He considers it absurd for anyone residing in these states to think that there's no difference between the two primary candidates and that this line of thinking is "crazily divorced from present reality." A third-party vote in a swing state, he contends, is "complicit in facilitating the election of Romney and Ryan." Ellsberg neglects to recognize that third-party votes in these very battleground states would actually underscore America's current appetite for new political leadership in this country.
Sometimes things must get worse before they can get better.
The Ellsberg article closes with a reference to one of America's greatest resisters, Henry David Thoreau. While voting is itself an action, engagement in the electoral process – from private discussion to public outreach – is ultimately of more influence. So when Mr. Ellsberg could have used his influence to publicly support the third-party candidate that he's voting for, he instead published an item that merely continues to feed into the establishment's two-party system for continued war, continued unlawful detentions, and continued criminal conduct.
If Governor Romney does end up switching titles, perhaps then America will witness the antiwar movement awaken from its current slumber or, at least, an Occupy Wall Street renaissance. Possibly then those whom already see through the two-party charade could start to make an impression on yesterday's thinkers while inspiring tomorrow's leaders. But what is certain is that only when the two-party paradigm is shattered will America witness the dawn of a new political landscape.
Oskar Mosco for Media Roots.
Image by Flickr user jonathan mcintosh.