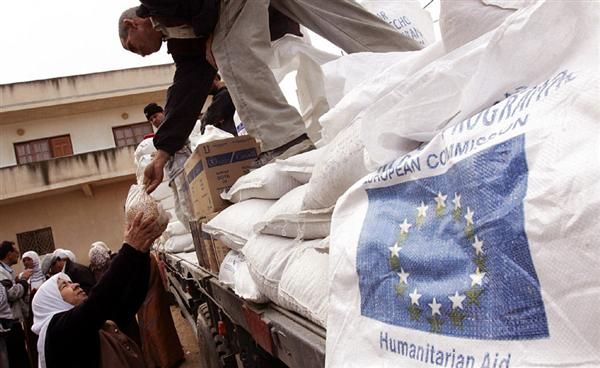 BUSINESS WEEK– Israel will not allow an international flotilla of ships to reach the Gaza Strip with construction materials and humanitarian supplies, a government official said, calling the action a provocative stunt.
"While they have wrapped themselves in a humanitarian cloak, they are engaging in political propaganda and not in pro-Palestinian aid," Foreign Ministry spokesman Yigal Palmor said today in a telephone interview from Jerusalem.
The eight vessels, carrying 10,000 tons of cargo and some 550 pro-Palestinian activists through the Mediterranean Sea, will probably reach the coastal waters of Gaza by May 28 or 29, Dror Feiler, one of the organizers, said by satellite phone from aboard the Swedish-Greek ship Sofia.
Israel has restricted entry of people and goods into Gaza since it was taken over by the militant Hamas movement in 2007, allowing in only a limited range of supplies including food, clothing and medicine in truck convoys.
Israeli Navy ships have stopped three previous efforts by the Free Gaza Movement, an international group formed in 2008 to deliver aid, to reach the territory by sea.
The ships set sail from Ireland, Sweden, Turkey and Greece, Feiler said. Some are carrying television crews that plan to broadcast live any confrontation between Israeli forces and the activists.
"This is not going to look good on television," said 58-year-old Feiler, an Israeli-born resident of Sweden. "We're on a peaceful mission to help end the misery of the people in Gaza and it's going to be very ugly if Israeli soldiers try to take over our ships."
Continue reading about Israel Planning to Block Aid Ships to Gaza.
–With assistance from Saud Abu Ramadan in Gaza. Editors: Ben Holland, Peter Hirschberg.
To contact the reporter on this story: Jonathan Ferziger in Tel Aviv at [email protected]
To contact the editor responsible for this story: Peter Hirschberg at [email protected]
© COPYRIGHT BUSINESS WEEK, 2010