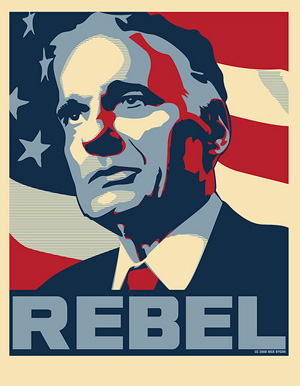 TRUTHDIG– The most important moral and intellectual voices within a disintegrating society are slowly discredited when their nonviolent protests and calls for justice cannot alter intransigent and corrupt systems of power. The repeated acts of peaceful civil disobedience, efforts at electoral and political reform and the fight to protect the rule of law are dismissed as useless by an embittered, dispossessed and betrayed public. The demagogues and hatemongers, the purveyors of violence, easily seduce enraged and bewildered masses in the final stages of collapse with false promises of vengeance, new glory and moral renewal. And in the spiral downward the good among us are reviled as naive and ineffectual fools.

There is no shortage of courageous dissidents in America. They seek to thwart the imperial disasters, looming financial insolvency and suicidal addiction to fossil fuel. They have stood in small knots on street corners week after week, month after month, year after year, to denounce the wars in Iraq and Afghanistan. They have occupied banks, shut down coal-fired power plants, attempted to halt mountaintop removal, interfered with whaling ships and walked in blustery weather to the White House, where they were arrested. They are struggling to break the Israeli blockade of Gaza on a ship called the Audacity of Hope. But because the corporate state and the two major political parties are indifferent to principled calls for reform, and because the mass of the public still buys into the myths of globalization and the American dream, the plundering and destruction continue unimpeded.

When most Americans face the nightmare before us, when they realize the irreversible devastation unleashed on the ecosystem and the economic misery from which they cannot escape, violence will have a broad and terrifying appeal. Those of us who demand a return to the rule of law and remain steadfast to nonviolence will find ourselves cast aside—the useful idiots Lenin so despised. I watched this happen in the social and political implosions in El Salvador, Guatemala, the Palestinian territories, Algeria, Bosnia and Kosovo. I watched the same cocktail of despair, economic collapse and callousness from a corrupt power elite mix itself into potent brews of civil strife. I watched the same untiring efforts by those who detested the violence and cruelty of the state, and the nascent violence and intolerance of the radical opposition. I covered as a reporter the disintegration that tore these societies apart. Those who held fast to moral imperatives, including Archbishop Oscar Romero in El Salvador and Ibrahim Rugova in Kosovo, were thrust aside and replaced with killers on both sides of the divide who embraced violence.
Continue reading about Hedges: Nader is Tired of Running for President.
Written by Chris Hedges
© 2011 Truthdig
Photo by Flickr user Nick Bygon