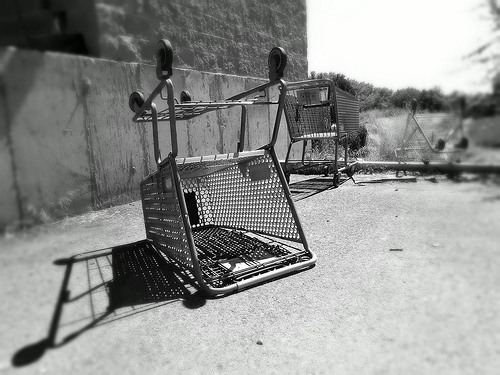 One of the most despicable examples of mindless materialism is the shopping tradition of Black Friday, a day where consumer zombies stampede through stores, killing strangers to buy discounted merchandise.
What's particularly ironic about a date dedicated to encouraging society to buy shit we don't need is that it comes on the heels of Thanksgiving, a day that's supposed to represent gratitude for what we already have. Now, Black Friday has become a global capitalist holiday, infecting countries that don't even celebrate Thanksgiving.
Despite the holiday buying bonanza, never forget that the true spirit of the season should be one of appreciation for your life and family. If only we took more time to reflect on everything we have instead of succumbing to material obsession over what we lack, the world would be much better off.
Abby
***
Black Friday's Rabid Zombie Shopping Stampede
***
BREAKING THE SET – Black Friday is a day reserved for seemingly normal people to become consumer zombies, ready and willing to do what whatever it takes to save a few bucks. Because nothing screams giving thanks more than clubbing a stranger and stomping their face in, as you stampede through a Walmart for that discounted clock radio.
Check out the worst Walmart Thanksgiving fights from this year.
One of the most peculiar aspects of this materialistic tradition is how happy people are to camp outside for days in the freezing cold just to be first in line for discounted junk. With thousands of people camping out and acting like wild animals, where are the riot cops?
Apparently police only pepper spray and shoot rubber bullets at people protesting consumerism, not brainlessly indulging in it. It's apparently unacceptable for Occupy Activists to camp out on public sidewalks, but it's perfectly fine as long as it's done to feed the materialist culture of the Discount Industrial Complex.
The silver lining is the growing discontent from employees of America's largest and worst paying corporation – Walmart. This year, associates aren't only holding protests against the company's sub-standard working conditions, but they've planned a massive walk out on the busiest shopping day of the year.
Walmart is so threatened, a former executive has launched a campaign called 'Black Lieday,' encouraging people to shop shop shop, and not pay attention to protesters.
So I implore you, boycott these corporate monoliths. Instead, buy local from places like farmers markets, mom and pop stores and online artists (like me at abbymartin.org)! Or, you could take a cue from Walmart execs and shop til' ya drop – just watch out for the rabid zombie shopping stampede while you're down on the ground.
***
LIKE Breaking the Set @ http://fb.me/JournalistAbbyMartin
FOLLOW Abby Martin @ http://twitter.com/AbbyMartin
Photo by Flickr user RNialBradshaw