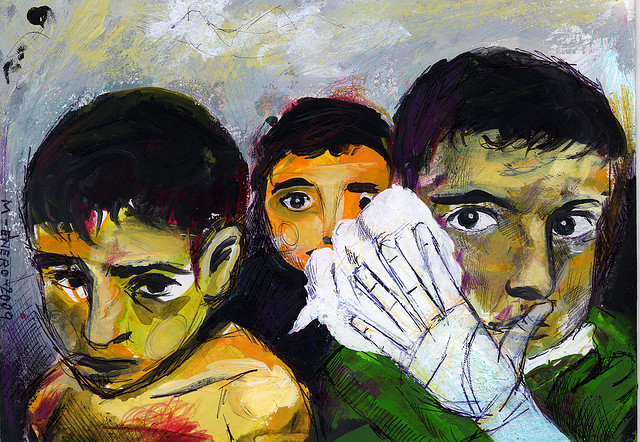 The humanitarian catastrophe resulting from Israel's latest killing spree in Gaza should weigh heavily on the conscience of US citizens, given that Israel remains the largest recipient of US foreign aid, to the tune of 3 billion dollars a year.
According to Reuters, the Israeli Air Force (IAF) has now dropped bombs on over 1,000 targets across what has been deemed the world's largest open-air prison. Scenes of extreme suffering and loss abound, like that in the town of Khan Younis, where a house filled with civilians was bombed, or the missile that leveled Gaza's police headquarters, killing 18 members of one family.
The Palestinian Center for Human Rights (PCHR) observed "Israeli warplanes launched 39 airstrikes targeting houses, agricultural plots, open areas, a charity and a bank in the southern Gaza Strip town of Khan Yunis." Furthermore, "Israeli tanks and gunboats … fired dozens of shells at agricultural and open areas," killing "9 Palestinian civilians, including 2 women …" PCHR also documents that 149 houses in Gaza have been "targeted and destroyed."
These outbursts of state terror are so periodic and unceasing, it's difficult to express the gravity of the situation. Much like the previous large-scale Israeli military assault on Gaza in 2012 called 'Operation Pillar of Defense', 'Operation Protective Edge' has unleashed horrifying levels of violence against Palestinian civilians. Doctors on the ground are now reporting that Israel is using weapons against Gazans which have been banned under international law, "[causing] major damage to [their] bodies, especially the limbs." Responding to this gruesome development, Palestinian Health Ministry Undersecretary Youssef Abo al-Rish condemned  "Israel's use of internationally banned weapons" as "a blatant violation of human rights and international agreements."
Compounded with the devastating human toll this savagery has spawned is a media narrative that all but ensures it will continue. Both television and print media repeatedly cast Israel as merely "defending itself" or "retaliating" against Hamas rockets. Writing in the Boston Globe, Chairman of the Anti Defamation League Jeff Robbins notes "Those who have been fortunate enough not to have endured rockets aimed at their homes can be counted upon to issue the familiar incantations about Israeli 'collective punishment,' dodging as always the question of what, precisely, Israel is supposed to do about attacks against its civilians if not to try to prevent them."
Ignored in this callous dismissal of Israeli war crimes is the fact that the people of Gaza are under a foreign military occupation in violation of international humanitarian law and multiple UN Security Council Resolutions. That this brutal occupation may be the source of the rocketing is untouched in the corporate press. Instead, American audiences are presented with a de-contextualized narrative of a cycle of violence from both sides, accompanied, almost invariably, by vague and insincere demands for a de-escalation of the conflict.
If the vast disparity in firepower between Hamas and the IDF doesn't illustrate the specious framing, then the death toll certainly does. Since the beginning of Israel's assault, 170 Palestinians have been killed and over 1,120 have been injured according to the Palestinian Health Ministry. Based on figures from the UN Office for the Coordination of Humanitarian Affairs, "70 percent of Gaza fatalities are civilians," and of that number, "30 percent are children." Conversely, zero Israelis have been killed. Nonetheless, the western authors of this mass slaughter are unrestrained in their exuberance, foremost the "leader of the free world."
In his July 8 Op-Ed in Haaretz, President Obama celebrated the growing "security relationship" between the US and Israel, a bond that is "stronger than ever." Perhaps the "strength" of this bond can be measured in the overwhelming silence and distortion that has greeted this latest chapter in the Palestinian people's long record of national humiliation. So when ABC World News anchor Diane Sawyer misidentifies Palestinian civilians devastated by IAF airstrikes as Israelis, a simple one minute apology to American viewers (not to the people of Gaza) suffices.
Any deeper investigation into the dominant narratives of Palestinian villainy that have long characterized US media discourse is forbidden. For example, the New York Times will issue no apology for featuring a front page photograph of a masked Palestinian slinging a stone alongside an article about the brutal lynching of Palestinian teenager Mohammed Abu Khadeir. Unlike Sawyer's "mistake", misrepresentations of this kind are the norm, and therefore merit no apologies. These images are illustrative of Palestinian menace or an ominous "demographic problem" pensively waiting to destroy an Israeli state–an island of civilization in a "tough neighborhood"–"forced to take action to protect its civilians." Rhetoric of this kind is highly reminiscent of the US genocide against North America's indigenous population, which was carried out to "protect" the European colonists from the "terror" of "merciless Indian savages," as Thomas Jefferson described them in one of his lesser known contributions to "enlightenment" philosophy.
Incidentally, the traditional imperial pretext of "protecting civilians" has been stretched to surreal dimensions under the current offensive. Among the "military" targets selected in this campaign to "protect" Israelis are beach-side cafes, mosques, and rehabilitation centers. The New York Times headlined the attack on the beach-side cafe as follows: Missile at Beachside Gaza Cafe Finds Patrons Poised for World Cup (my emphasis). It would be instructive to observe the response within the US if the terrorist attack against innocent civilians at the Boston Marathon was headlined Exploding Pressure Cooker Finds Athletes Poised for Boston Marathon. Needless to say, more than a simple "correction" would be demanded.
Underlying these socially sanctioned exhibitions of dehumanization is a doctrine of state violence which was articulated most powerfully by Israel's first Prime Minister, David Ben Gurion. In a shockingly unambiguous entry in his Independence War Diary he noted "Blowing up a house is not enough. What is necessary is cruel and strong reactions. We need precision in time, place and casualties. If we know the family–[we must] strike mercilessly, women and children included. Otherwise the reaction is inefficient. At the place of action there is no need to distinguish between the guilty and the innocent." Under 'Operation Protective Edge', the Israeli military has adhered to this pernicious doctrine with a frightening degree of discipline.
Overshadowing this record of atrocities is the inescapable fact that the United States is complicit in the killing of every innocent Palestinian under Israeli occupation, a reality systematically omitted from conventional narratives. A particularly dramatic illustration of this norm could be perceived in a recent State Dept. press conference. After establishing the dogma that Palestinians had no "right to defend themselves", State Dept. spokesperson Jen Psaki was asked what Washington would do to pressure Palestinian Authority President Mahmoud Abbas to "rein in" Hamas.
Since Hamas and the PA formed a "unity government", the journalist protested, Abbas certainly shared "responsibility" for the Hamas rocketing into Israel. Another question could have easily been asked, namely what was the Obama administration going to do to "rein in" Israeli Prime Minister Benjamin Netanyahu. Critical inquiry of this kind is inconceivable in US establishment journalistic circles. Consequently, the leader of the "only democracy in the Middle East" (typical language in imperial societies that lack self-reflection, the US being a dramatic example) can launch missiles at unprotected civilian structures–murdering the elderly, women, and children–and the best headline Human Rights Watch can produce to capture the tragedy is Palestine/Israel: Indiscriminate Palestinian Rocket Attacks. On the IAF airstrikes on houses? They "appear to be" collective punishment.
At a recent Palestine solidarity rally, author and activist Max Blumenthal proclaimed "This is not a conflict. It is a conquest. It is an illegal conquest." Beyond the highly misleading, and often racist, commentary that prevails in the establishment press, this is arguably the most succinct description of Israel's ongoing war against Palestinians. Much like the global conquerors in Washington, the regional conquerors in the Israeli government interpret any expression of autonomy by those over whom they rule as not only threatening but criminal. It is through this perverse logic that the systematic subjugation of an entire people is made to look virtuous or, to borrow Benjamin Netanyahu's words in reference to its threats against Iran, "those in the international community … don't have a moral right to place a red light before Israel." Throughout history, all oppressive states have imbibed this psychotic worldview, some in more lethal doses than others. One shudders at the thought of future servants of empire retelling this chronology of suffering and the monstrosities they will inevitably conceal in the name of "freedom".
Written by Xavier Best @Xav711

Photo by flickr user Jose Mesa
Source: Chomsky, Noam. The Fateful Triangle: The United States, Israel, and the Palestinians. Boston, MA: South End, 1983. Print.