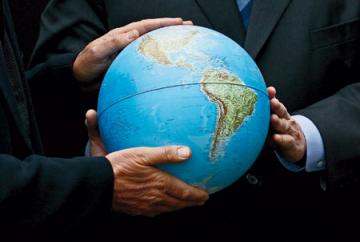 MEDIA ROOTS — Instead of the run of the mill faceless accusations of 'The 1% are oppressing the 99%' research organization Project Censored has compiled a valuable list with names and faces of some of the world's biggest earners and financial elites.
Project Censored also characterizes a particular sect of these financial elitists as the 'Global Economic Super Entity', the biggest movers and shakers of the world economy. The assertion is made that NATO is now simply an arm of the financial elite global corporate class, a defacto 'world police force' to make sure the money keeps flowing as planned. A lot of interesting points are raised with ample documentation contained herein.

***
PROJECT CENSORED – The Occupy Movement has developed a mantra that addresses the great inequality of wealth and power between the world's wealthiest 1 percent and the rest of us, the other 99 percent. While the 99 percent mantra undoubtedly serves as a motivational tool for open involvement, there is little understanding as to who comprises the 1 percent and how they maintain power in the world. Though a good deal of academic research has dealt with the power elite in the United States, only in the past decade and half has research on the transnational corporate class begun to emerge.[i]
Foremost among the early works on the idea of an interconnected 1 percent within global capitalism was Leslie Sklair's 2001 book, The Transnational Capitalist Class.[ii] Sklair believed that globalization was moving transnational corporations (TNC) into broader international roles, whereby corporations' states of orgin became less important than international argreements developed through the World Trade Organization and other international institutions. Emerging from these multinational corporations was a transnational capitalist class, whose loyalities and interests, while still rooted in their corporations, was increasingly international in scope.

Sklair writes:
The transnational capitalist class can be analytically divided into four main fractions: (i) owners and controllers of TNCs and their local affiliates; (ii) globalizing bureaucrats and politicians; (iii) globalizing professionals; (iv) consumerist elites (merchants and media). . . . It is also important to note, of course, that the TCC [transnational corporate class] and each of its fractions are not always entirely united on every issue. Nevertheless, together, leading personnel in these groups constitute a global power elite, dominant class or inner circle in the sense that these terms have been used to characterize the dominant class structures of specific countries.[iii]
Estimates are that the total world's wealth is close to $200 trillion, with the US and Europe holding approximately 63 percent. To be among the wealthiest half of the world, an adult needs only $4,000 in assets once debts have been subtracted. An adult requires more than $72,000 to belong to the top 10 percent of global wealth holders, and more than $588,000 to be a member of the top 1 percent. As of 2010, the top 1 percent of the wealthist people in the world had hidden away between $21 trillion to $32 trillion in secret tax exempt bank accounts spread all over the world.[iv] Meanwhile, the poorest half of the global population together possesses less than 2 percent of global wealth.[v] The World Bank reports that, in 2008, 1.29 billion people were living in extreme poverty, on less than $1.25 a day, and 1.2 billion more were living on less than $2.00 a day.[vi] Starvation.net reports that 35,000 people, mostly young children, die every day from starvation in the world.[vii] The numbers of unnecessary deaths have exceeded 300 million people over the past forty years. Farmers around the world grow more than enough food to feed the entire world adequately. Global grain production yielded a record 2.3 billion tons in 2007, up 4 percent from the year before—yet, billions of people go hungry every day. Grain.org describes the core reasons for ongoing hunger in a recent article, "Corporations Are Still Making a Killing from Hunger": while farmers grow enough food to feed the world, commodity speculators and huge grain traders like Cargill control global food prices and distribution.[viii] Addressing the power of the global 1 percent—identifying who they are and what their goals are—are clearly life and death questions.
It is also important to examine the questions of how wealth is created, and how it becomes concentrated. Historically, wealth has been captured and concentrated through conquest by various powerful enities. One need only look at Spain's appropriation of the wealth of the Aztec and Inca empires in the early sixteenth century for an historical example of this process. The histories of the Roman and British empires are also filled with examples of wealth captured.
Once acquired, wealth can then be used to establish means of production, such as the early British cotton mills, which exploit workers' labor power to produce goods whose exchange value is greater than the cost of the labor, a process analyzed by Karl Marx in Capital.[ix] A human being is able to produce a product that has a certain value. Organized business hires workers who are paid below the value of their labor power. The result is the creation of what Marx called surplus value, over and above the cost of labor. The creation of surplus value allows those who own the means of production to concentrate capital even more. In addition, concentrated capital accelerates the exploition of natural resources by private entrepreneurs—even though these natural resources are actually the common heritage of all living beings.[x]
In this article, we ask: Who are the the world's 1 percent power elite? And to what extent do they operate in unison for their own private gains over benefits for the 99 percent? We will examine a sample of the 1 percent: the extractor sector, whose companies are on the ground extracting material from the global commons, and using low-cost labor to amass wealth. These companies include oil, gas, and various mineral extraction organizations, whereby the value of the material removed far exceeds the actual cost of removal.
We will also examine the investment sector of the global 1 percent: companies whose primary activity is the amassing and reinvesting of capital. This sector includes global central banks, major investment money management firms, and other companies whose primary efforts are the concentration and expansion of money, such as insurance companies.
Finally, we analyze how global networks of centralized power—the elite 1 percent, their companies, and various governments in their service—plan, manipulate, and enforce policies that benefit their continued concentration of wealth and power.
The Extractor Sector: The Case of Freeport-McMoRan (FCX)
Freeport-McMoRan (FCX) is the world's largest extractor of copper and gold. The company controls huge deposits in Papua, Indonesia, and also operates in North and South America, and in Africa. In 2010, the company sold 3.9 billion pounds of copper, 1.9 million ounces of gold, and 67 million pounds of molybdenum. In 2010, Freeport-McMoRan reported revenues of $18.9 billion and a net income of $4.2 billion.[xi]
The Grasberg mine in Papua, Indonesia, employs 23,000 workers at wages below three dollars an hour. In September 2011, workers went on strike for higher wages and better working conditions. Freeport had offered a 22 percent increase in wages, and strikers said it was not enough, demanding an increase to an international standard of seventeen to forty-three dollars an hour. The dispute over pay attracted local tribesmen, who had their own grievances over land rights and pollution; armed with spears and arrows, they joined Freeport workers blocking the mine's supply roads.[xii] During the strikers' attempt to block busloads of replacement workers, security forces financed by Freeport killed or wounded several strikers.
Freeport has come under fire internationally for payments to authorities for security. Since 1991, Freeport has paid nearly thirteen billion dollars to the Indonesian government—one of Indonesia's largest sources of income—at a 1.5 percent royalty rate on extracted gold and copper, and, as a result, the Indonesian military and regional police are in their pockets. In October 2011, the Jakarta Globe reported that Indonesian security forces in West Papua, notably the police, receive extensive direct cash payments from Freeport-McMoRan. Indonesian National Police Chief Timur Pradopo admitted that officers received close to ten million dollars annually from Freeport, payments Pradopo described as "lunch money." Prominent Indonesian nongovernmental organization Imparsial puts the annual figure at fourteen million dollars.[xiii] These payments recall even larger ones made by Freeport to Indonesian military forces over the years which, once revealed, prompted a US Security and Exchange Commission investigation of Freeport's liability under the United States' Foreign Corrupt Practices Act.
In addition, the state's police and army have been criticized many times for human rights violations in the remote mountainous region, where a separatist movement has simmered for decades. Amnesty International has documented numerous cases in which Indonesian police have used unnecessary force against strikers and their supporters. For example, Indonesian security forces attacked a mass gathering in the Papua capital, Jayapura, and striking workers at the Freeport mine in the southern highlands. At least five people were killed and many more injured in the assaults, which shows a continuing pattern of overt violence against peaceful dissent. Another brutal and unjustified attack on October 19, 2011, on thousands of Papuans exercising their rights to assembly and freedom of speech, resulted in the death of at least three Papuan civilians, the beating of many, the detention of hundreds, and the arrest of six, reportedly on treason charges.[xiv]
On November 7, 2011, the Jakarta Globe reported that "striking workers employed by Freeport-McMoRan Copper & Gold's subsidiary in Papua have dropped their minimum wage increase demands from $7.50 to $4.00 an hour, the All-Indonesia Workers Union (SPSI) said."[xv] Virgo Solosa, an official from the union, told the Jakarta Globe that they considered the demands, up from the (then) minimum wage of $1.50 an hour, to be "the best solution for all."
Workers at Freeport's Cerro Verde copper mine in Peru also went on strike around the same time, highlighting the global dimension of the Freeport confrontation. The Cerro Verde workers demanded pay raises of 11 percent, while the company offered just 3 percent.
The Peruvian strike ended on November 28, 2011.[xvi] And on December 14, 2011, Freeport-McMoRan announced a settlement at the Indonesian mine, extending the union's contract by two years. Workers at the Indonesia operation are to see base wages, which currently start at as little as $2.00 an hour, rise 24 percent in the first year of the pact and 13 percent in the second year. The accord also includes improvements in benefits and a one-time signing bonus equivalent to three months of wages.[xvii]
In both Freeport strikes, the governments pressured strikers to settle. Not only was domestic militrary and police force evident, but also higher levels of international involvement. Throughout the Freeport-McMoRan strike, the Obama administration ignored the egregious violation of human rights and instead advanced US–Indonesian military ties. US Secretary of Defense Leon Panetta, who arrived in Indonesia in the immediate wake of the Jayapura attack, offered no criticism of the assault and reaffirmed US support for Indonesia's territorial integrity. Panetta also reportedly commended Indonesia's handling of a weeks-long strike at Freeport-McMoRan.[xviii]
US President Barack Obama visited Indonesia in November 2011 to strengthen relations with Jakarta as part of Washington's escalating efforts to combat Chinese influence in the Asia–Pacific region. Obama had just announced that the US and Australia would begin a rotating deployment of 2,500 US Marines to a base in Darwin, a move ostensibly to modernize the US posture in the region, and to allow participation in "joint training" with Australian military counterparts. But some speculate that the US has a hidden agenda in deploying marines to Australia. The Thai newspaper The Nation has suggested that one of the reasons why US Marines might be stationed in Darwin could be that they would provide remote security assurance to US-owned Freeport-McMoRan's gold and copper mine in West Papua, less than a two-hour flight away.[xix]
The fact that workers at Freeport's Sociedad Minera Cerro Verde copper mine in Peru were also striking at the same time highlights the global dimension of the Freeport confrontation. The Peruvian workers are demanding pay rises of eleven percent, while the company has offered just three percent. The strike was lifted on November 28, 2011.[xx]
In both Freeport strikes, the governments pressured strikers to settle. Not only was domestic militrary and police force evident, but also higher levels of international involvement. The fact that the US Secretary of Defense mentioned a domestic strike in Indonesa shows that the highest level of power are in play on issues affecting the international corporate 1 percent and their profits.
Public opinion is strongly against Freeport in Indonesia. On August 8, 2011, Karishma Vaswani of the BBC reported that "the US mining firm Freeport-McMoRan has been accused of everything from polluting the environment to funding repression in its four decades working in the Indonesian province of Papau. . . . Ask any Papuan on the street what they think of Freeport and they will tell you that the firm is a thief, said Nelels Tebay, a Papuan pastor and coordinator of the Papua Peace Network."[xxi]
Freeport strikers won support from the US Occupy movement. Occupy Phoenix and East Timor Action Network activists marched to Freeport headquarters in Phoenix on October 28, 2011, to demonstrate against the Indonesian police killings at Freeport-McMoRan's Grasberg mine.[xxii]
Freeport-McMoRan (FCX) chairman of the board James R. Moffett owns over four million shares with a value of close to $42.00 each. According to the FCX annual meeting report released in June 2011, Moffett's annual compensation from FCX in 2010 was $30.57 million. Richard C. Adkerson, president of the board of FCX, owns over 5.3 million shares. His total compensation in was also $30.57 million in 2010 Moffett's and Adkerson's incomes put them in the upper levels of the world's top 1 percent. Their interconnectness with the highest levels of power in the White House and the Pentagon, as indicated by the specific attention given to them by the US secretary of defense, and as suggested by the US president's awareness of their circumstances, leaves no doubt that Freeport-MacMoRan executives and board are firmly positioned at the highest levels of the transnational corporate class.

Continue Reading The Global 1%: Exposing the Transnational Ruling Class at Project Censored