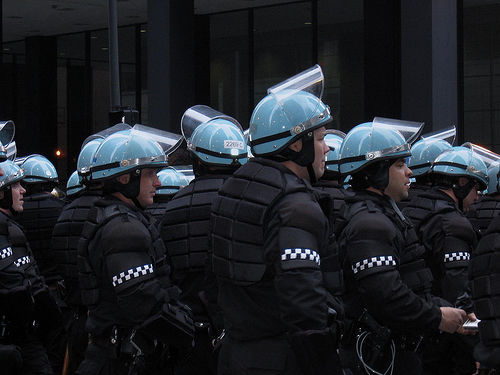 MEDIA ROOTS – Citizenship unites all of us around share rights and responsibilities, which guide our daily conduct. We have the right to express ourselves and the responsibility to respect others, participate in the democratic process, and pursue happiness. However, the increased militarization of state and local police forces has helped propagate a climate in which citizen journalists are victimized for taking on the role of the fourth estate. To prosecute citizen journalists for undertaking their responsibilities is tragically inconsistent with our fundamental rights as U.S. citizens.
The plight of citizen journalists is one of many issues that the U.S. corporate media regularly ignores. Instead, it holds citizen reporting in contempt while it caters to the inane and vacuous in order to attract the advertising revenue associated with this lowest common denominator. Consequently, the corporate media's hollow reporting ostracizes critical thinkers and citizen journalists instead of confronting the difficult issues of our day. The results are grim: U.S. corporate media actively represses political expression and social activism, while permitting militant police forces to grow relatively unhindered.
Paradoxically, police squash their own interests when suppressing citizen journalists, since these journalists are providing a public service for all U.S. citizens by providing much needed transparency. Despite numerous obstacles, citizen journalists have taken the reins in order to provide the United States with independent news, information, and raw coverage of current events. Citizen journalists and concerned citizens (e.g. Luke Rudkowski, Tim Pool, Scott Campbell, and Jesse Myerson) arm themselves with open minds, modern technology, and determination en route to changing the oppressive status quo. Abby Martin of RT raises awareness by richly documenting this struggle.
Christian Sorensen
***
Abby Martin reports on the attack on citizen journalists for RT TV
***
Photo by flickr user cikagajamie