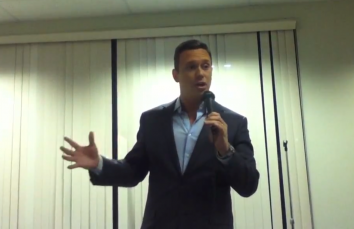 MEDIA ROOTS – Ben Swann, host and producer of WXIX's Reality Check, has been offering viewers a look at news not typically covered by the contemporary corporate media establishment. Publicly aired three nights a week in Cincinnati, the news featurette has now received an online cult following for its raw reporting and fresh format. Previous segments have featured petrodollar warfare, voting machine fraud, and the Fed's third round of quantitative easing.
Earlier this month at a pre-election meeting of liberty students, Mr. Swann shared with participants how and why the corporate media fails to cover unlawful executive orders, the illegitimate NDAA, and the broken War on Drugs. The salon is called Libertas Found and also featured libertarian congressional candidate Bob Coogan who discussed what he believes are solutions for Ohio 52nd district.
Below are three parts of Swann's keynote speech that have recently been released. Part 4 of the series is expected to offer Swann's view on why the media seems to not find newsworthy internet piracy legislation.
Oskar Mosco for Media Roots.
***
Ben Swann discusses why the media does not accurately cover the ongoing
Mexican drug war or look into the U.S.' War on Drugs policies.
Ben Swann talks about why the media continues to fail holding President Obama accountable for his actions on NDAA despite his supposed contradictory stance.
Ben Swann looks into why the media fails to cover executive orders and privilege.
***
Image provided by Ben Swann