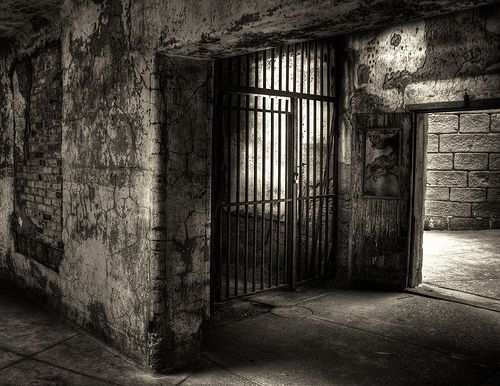 MEDIA ROOTS – Being held in a solitary cell with virtually no human contact for long periods of time is tantamount to torture. Human beings are social creatures that are supposed to move and interact with other humans–being cramped in a small box and denied human contact is proven to cause massive psychological damage as well as physical deterioration.
Last Tuesday, a groundbreaking Congressional hearing took place on the use of solitary confinement in the US. For the first time ever, Congress discussed the use of this technique on prisoners and listened to emotional testimony from former prisoners who were not only wrongfully imprisoned, but held in solitary confinement for years before being exonerated with DNA evidence.
Whistleblower Bradley Manning was subject to this inhumane form of imprisonment for many months before his pre-trial hearings began. However, Manning's treatment was especially degrading because he was forced to strip down naked every night. I spoke to Kevin Gosztola about the landmark hearing on RT TV.
Abby Martin

Kevin Gosztola, blogger for Fire Dog Lake talks about the Congressional hearing
***
INNOCENCE PROJECT – Today Anthony Graves, who was exonerated after spending 16 years on death-row in Texas, testified at the first-ever congressional hearing on solitary confinement about the horrors he faced while held in solitary confinement. The Innocence Project also submitted written statements to the Senate Judiciary Committee Subcommittee on the Constitution, Civil Rights, and Human Rights on behalf of five men and one woman about the inhumane treatment they experienced in solitary confinement while incarcerated for crimes they didn't commit. The six men and women were all represented by different member projects of the Innocence Network. Today they submitted statements as individuals and add their voices to the many others that ask the Congress to stop this practice.
"As the stories of these six exonerees so starkly illustrate, placing someone in a tiny cell and cutting them off from regular human contact is an extreme punishment with grave psychological consequences," said Maddy deLone, Executive Director of the Innocence Project, which is affiliated with Cardozo School of Law. "But what's truly shocking is how frequently prisons and jails in this country use this practice. Nearly all of wrongly convicted that I've spoken with have their own disturbing story about time spent in solitary confinement. We are relieved that Congress has decided to shine a light on this far too common practice, and we hope that the voices of the exonerated will be useful as Congress and others develop meaningful reforms to stem its use."
The Innocence Project submitted personal statements on behalf of the following:
Julie Rea was wrongly imprisoned for three years in Illinois before being exonerated in 2006. She describes that she was placed in solitary to keep her from harming herself and was then tormented by prison guards who played a recording of a woman being tortured to prevent her from sleeping.
Cornelius Dupree, who was exonerated by DNA after spending 30 years in Texas prisons for a crime he didn't commit, details receiving one complete meal only every three days when he was placed in solitary. The other two days he received a spoonful each of rice and beans and a roll.
Robert Dewey, exonerated in 2012 after spending 17 years in Colorado prisons for a crime DNA proved he didn't commit, was placed in solitary because the medication he was prescribed after back surgery caused him to fail a drug test. While in solitary, he was denied medication on the schedule his doctors had prescribed.
Nicholas James Yarris spent 23 years in solitary confinement on death row in Pennsylvania before he was exonerated by DNA in 2003. While incarcerated he attempted suicide and a year before he was finally freed asked that he be executed rather than continue to be held in "endless degradation."
Clarence Elkins describes being numb when he was finally released after being wrongly imprisoned in Ohio for 6 ½ years because he had spent the last three months in solitary confinement to "protect" him from the real perpetrator who committed the crime in his case and was incarcerated in the prison.
Herman Atkins spent 16 months in solitary confinement during the 11 years he was wrongly imprisoned in California before DNA proved his innocence. He describes being confined to a small windowless room with a light always on to allow correction officers to watch him at all times, and says, "When a government has the authority to treat people so poorly, it's impossible to hold citizens to a higher standard."
Congressional testimony from Anthony Graves about his ten years in solitary confinement
A copy of the complete statements submitted on behalf of the six wrongly convicted individuals is available at
http://www.innocenceproject.org/docs/SolitaryStatementsFinal.pdf
***
Photo by flickr user Bob Jagendorf