MEDIA ROOTS – The following is a press release from Occupy San Jose promoting a march and GA happening tomorrow, if you are in the area come show solidarity!
***
FOR IMMEDIATE RELEASE
CONTACT: Occupy San Jose
Occupiers, Activists and Friends: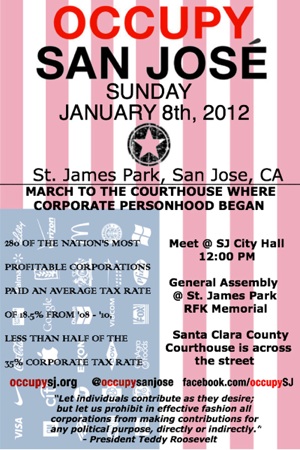 SAN JOSÉ, CA – Occupy San José will hold a general assembly in St. James Park against corporate money in politics, following a march from San José City Hall at 200 E. Santa Clara Street to the Santa Clara County Courthouse at First and St. James Street where, 126 years ago, a judge started our nation down the path to corporate personhood. The march to the Courthouse (St. James Park) will feature leaders from the community, government officials in solidarity with the movement, various unions, and others speaking on the dangers inherent in corporations controlling public policy.

We look forward to seeing you tomorrow, Sunday, January 8, 2012 at our first big march of the new year. At noon we will be meeting at San Jose City Hall before marching to St. James park for the general assembly.
There will be food provided from Food Not Bombs, music by Sagehart, and love from NextGen. We will be taking direct action against the historic Courthouse, where 126 years ago, a Judge set the precedent of corporate personhood used in the infamous Citizens United case.

If you haven't done so, please RSVP for this event. We promise a fun and productive day!

RSVP: https://www.facebook.com/events/255352567855919

Event: Occupy San José march to the Santa Clara County Courthouse

Location: Meet at San José City Hall, march over to the Courthouse
Time: January 8, 2012, 12:00 p.m.
HELP TAKE BACK OUR COUNTRY!
***