MEDIA ROOTS— Rhetoric aside, Obama continues to be the darling of Wall Street. In 2008, President Obama racked up $750 million dollars for his Presidential campaign, and is projected to take in roughly $1 billion dollars for 2012. Although the President appears to commiserate with the Occupy Wall Street movement and its dissatisfaction of Wall Street's influence over politics, Obama has raised far more money this year from the financial and banking sector than any other GOP candidate combined. With such astronomical figures with which Obama's been bought by the ruling-class, it's no surprise he has broken virtually every campaign promise. With this kind of financial sway, it must be fully expected he will do it again, should mass cognitive dissonance persist in 2012 granting him another four years.
MR

***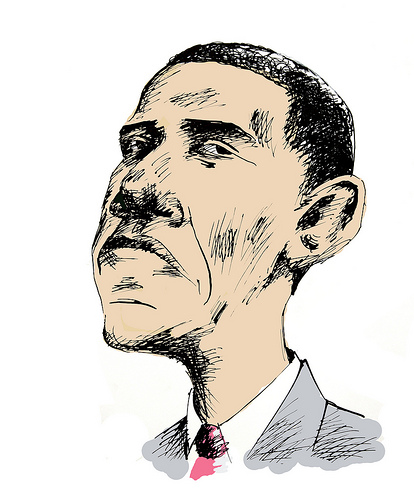 THE WASHINGTON POST— Obama has brought in more money from employees of banks, hedge funds and other financial service companies than all of the GOP candidates combined, according to a Washington Post analysis of contribution data. The numbers show that Obama retains a persistent reservoir of support among Democratic financiers who have backed him since he was an underdog presidential candidate four years ago.
Channeling 'Occupy' anger
Obama's ties to Wall Street donors could complicate Democratic plans to paint Republicans as puppets of the financial industry, particularly in light of the Occupy Wall Street protests that have gone global over the past week.
In response to the protests, the Obama campaign and other Democrats have stepped up their attacks on Romney and other Republicans for their opposition to Wall Street regulations.
One top banking executive who raises money for Obama, discussing fundraising efforts on the condition of anonymity, said reports of disaffection with the president "are exaggerated and overblown." He said a strong contingent of financiers in New York, Chicago and California remains supportive of Obama and his economic policies, even as some have turned on him.
But, this donor added, "it probably helps from a political perspective if he's not seen as a Wall Street guy."
Limits on GOP candidates
Obama retains a core group of supporters on Wall Street who are central to his fundraising efforts. About a third of his top 40 fundraisers, who have helped bundle together $500,000 or more in contributions, hail from the finance sector, including big names such as former New Jersey governor Jon S. Corzine of MF Global, hedge-fund manager Orin Kramer and UBS executive Robert Wolf.
Obama's chief of staff, William M. Daley, was also vice chairman at J.P. Morgan Chase before coming to the White House this year.
Read more about Obama still flush with cash from financial sector despite frosty relations.
© 2011 The Washington Post Company
Photo by flickr user Osipowa