Prominent members of the right-wing Venezuelan opposition, including professors and journalists, are spreading blatant lies about U.S. journalists, inciting violence and subjecting them to a torrent of extreme death threats.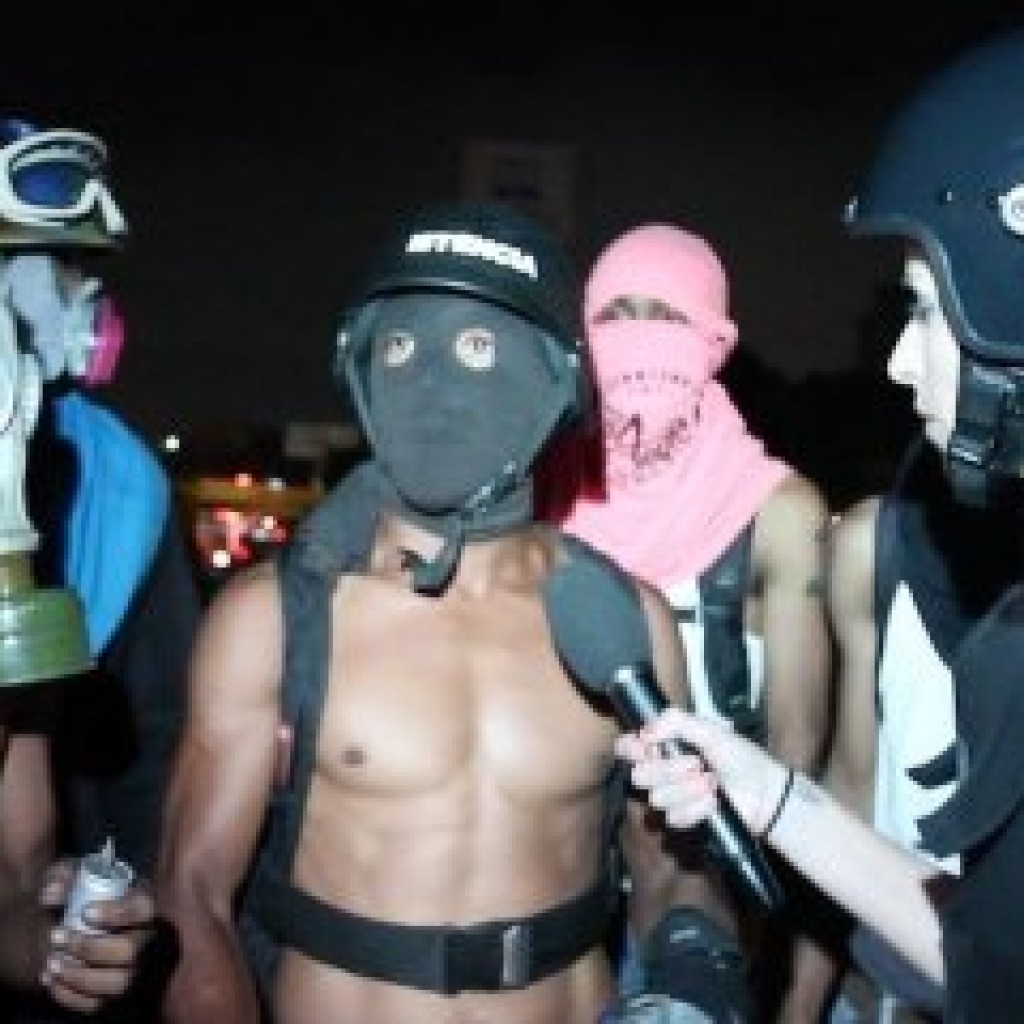 As the price of oil has plummeted, Venezuela has seen growing inflation and goods shortages. The South American nation's right-wing opposition — which has long been backed by the United States government, and which in 2002 briefly carried out a coup, with U.S. support — has exploited this crisis to launch a borderline insurgency against the democratically elected socialist government.
For months, the right-wing opposition has been engaging in large, often bloody demonstrations. Protesters have lynched three Afro-Venezuelans, whom they accused of being "infiltrators"; two of the men were burned alive. Right-wing demonstrators have also set fire to government buildings and buses, and even thrown explosives and molotov cocktails at police.
UPDATE: Demonstrators set man on fire during violent Venezuela protest (Warning: Graphic)

— New York Daily News (@NYDailyNews) May 23, 2017
In response, Venezuelan security forces have cracked down on the violent protests. Dozens of people have been killed, on both sides. Some academic experts have suggested that the opposition is intentionally provoking a violent response, in hopes of attracting international media attention.
Reporters Abby Martin and Mike Prysner, co-producers of the political television show The Empire Files, traveled to Venezuela in May to report on the ongoing violent protests, and to provide an independent perspective often ignored in Western corporate media outlets.
In the midst of these bloody protests, several influential voices in the Venezuelan opposition have circulated lies about Martin and Prysner, accusing them of being "spies" for the country's intelligence agencies, without presenting a modicum of evidence. They have also shared the journalists' private information, and even appeared to have incited violence against them.
"For doing my job –– for interviewing government officials, protesters at los guarimbas, average Venezuelans and peaceful marchers –– I am called a spy who should be killed by the same people called 'peaceful freedom fighters' by Western press," Martin told AlterNet in an interview.
"These unsuccessful attempts to intimidate us reveals how much they really fear accurate reporting that might undermine their narrative."
Abby Martin has established herself as one of the most influential independent journalists in the U.S. A staunch critic of the mainstream corporate media, Martin was also a popular former host of the daily program Breaking The Set, on the television network Russia Today.
Her current show, The Empire Files, is hosted by TeleSUR, a pan-Latin American news network that is collectively funded by several South American governments, including Venezuela's. Martin's and Prysner's program is editorially independent, however, and they produce it themselves.
"The show is totally independent of TeleSUR," Martin explained. "We merely sell them the content; they have zero control over anything we do."
Extreme, Unsubstantiated Smears
When opposition forces learned that Martin and Prysner had been in Venezuela reporting, multiple right-wing opposition journalists took to social media to accuse the two of being paid "spies" for the Venezuelan National Guard (GNB). None of the accusers provided any proof whatsoever for the extraordinary allegation.
Martin and Prysner stressed that this accusation completely false — a baseless lie that amounts to libel. They told AlterNet that they are considering legal action both inside and out of the U.S. based on the fabricated claims.
Jose Vicente Carrasquero Aumaitre, a professor of political science at Venezuela's Simon Bolivar University and opposition activist, was one of the first key figures to spread unsubstantiated rumors about Martin and Prysner. On May 31, he claimed on Twitter that the reporters "infiltrate opposition protests in order to collect intelligence for the GNB." (All translations were done by AlterNet.)
Despite the fact that Carrasquero did not provide any proof, his rumor was echoed, and even further exaggerated, by several ostensible journalists.
Prominent opposition journalist Manuel Malaver spread more uncorroborated accusations. He claimed on Twitter that Martin and Prysner "spy" for the government and are collecting information for SEBIN, Venezuela's intelligence service.
Estos sapos gringos, Abby Martin y Michael Prysner, espian las marchan para el gobierno y portan carnet de Telesur — Manuel Malaver (@MMalaverM) May 31, 2017
Angie Perez, an opposition activist who describes herself as a journalist and says she is an Emmy Award winner, amplified the unsubstantiated claims. On her popular Twitter and Instagram accounts, Perez stated, without providing a shred of evidence, that Martin and Prysner are "paid spies of the GNB."
Taking things even further, Perez also asked her Instagram followers, in reference to Abby Martin, "Who wants to greet her on our behalf?" In follow-up tweets, Perez doubled down, sharing the private information of Mike Prysner, and even posting the address of an event at which he was scheduled to speak. She also openly called on her followers to protest the event, writing, "Invite ALL your friends," using the hashtag #Escrache.
Martin and Prysner accused Perez and others of inciting violence against them with these comments that effectively implore their followers to take action.
Unlike some of the other prominent Venezuelan opposition figures spreading lies about Martin and Prysner, Perez is based in the U.S. According to her social media accounts, Perez lives in Miami, Florida. She also studied at the University of Miami, her LinkedIn account says.
Perez was not the only Venezuelan opposition activist based in the U.S. to spread the unconfirmed rumors, however.
Roberto Olivares, another opposition activist and self-described journalist based in Miami, claimed on Twitter that Martin and Prysner had falsely claimed to be working for CNN, and are "spies" and "infiltrators." Martin and Prysner said Olivares also appeared to incite violence against them, using the phrase, "Candela con ellos!"
In lieu of any proof, these opposition activists simply shared contextless photos of Martin and Prysner in Venezuela. One photo, Martin explained, shows Prysner posing with two mall security guards who had asked him for a photo because they were a fan of his show. Another photo shows Martin with a government official whom she had just interviewed.
AlterNet reached out to Perez, Oliveras and Carrasquero with a request for comment. In multiple emails, AlterNet inquired if they had any evidence at all for their accusations. None of them replied.
Incredibly Violent Death Threats
A torrent of extreme death threats followed the unsubstantiated accusations made by the Venezuelan opposition figures — many of whose tweets and Instagram posts garnered thousands of likes and shares.
UPDATE: Demonstrators set man on fire during violent Venezuela protest (Warning: Graphic)

— Abby Martin (@AbbyMartin) May 31, 2017
In scores of tweets and other social media posts, right-wing Venezuelan activists threatened in excruciating detail to brutally murder and rape Martin and Prysner.
Opposition activist @Alejandrojx wrote, "The next time we see you, we're gonna kill you, motherfucker whore." He added, "We're gonna crush your fucking face and rape you the next time we see you, motherfucker bitch. Were gonna beat you to death." Magno then told his Twitter followers, "KILL THEM. Their throat need to be cut." (His account was later suspended.)
Several opposition activists openly called for Martin and Prysner to be lynched. A Twitter user with the name @GregCornilliac wrote, "We will lynch them." (This account was also suspended.) One man with the handle @Carlos_DC said, "Lynching them is the minimum that they deserve, miserable whores."
Another opposition activist, @Marifletasp, wrote, "We already know what to do with them. The same with other infiltrators" — a reference to the multiple people who have been burnt alive by right-wing Venezuelan protesters.
Abby Martin voiced concern about the threats in an interview with AlterNet. "Based on our experiences on-the-ground in Venezuela, we are not surprised at the lynching threats from an opposition movement defined by violence and right-wing ideology," she said.
"However, we are shocked that such an inciteful disinformation campaign would be spread by major media outlets, academics and other figures without question," Martin added.
Patricia Villegas, a Colombian journalist and the president of TeleSUR, said the media network is looking into how it will respond to the threats. She wrote on Twitter, "We demand respect for the journalist work of our teams and we are considering relevant action before these threats that are exposing us to danger."
Spreading Disinformation
This is not the first time false claims have been widely circulated about Abby Martin. In January, the Director of National Intelligence released a report alleging that Russia "interfered" in the U.S. election, while providing almost no evidence. In lieu of solid proof, the DNI cited Russia Today, and specifically Martin's previous program Breaking the Set.
In its report on the DNI allegations, the New York Times spread demonstrably false claims about Martin, which she corrected in a public statement.
Martin has traveled to numerous countries throughout the world to report on issues often overlooked and whitewashed by corporate media outlets. Before visiting Venezuela, Martin and Prysner went to Palestine and Ecuador for reports on the Israeli military occupation and oil pollution in the Amazon.
Reflecting on her time in Venezuela, Martin said, "With the US government giving tens of millions of our tax dollars to regime change efforts in the country, open calls for US intervention and a corporate media promoting one-sided imperial propaganda, we felt it was imperative as US journalists to put ourselves in harm's way in order to get the truth from all sides of the conflict."
"Journalists working for state and left media in Venezuela are viciously attacked and threatened by the opposition on a regular basis," she told AlterNet. "With this recent incitement campaign, we fear for the lives of the teleSUR correspondents still in Caracas who heroically put their lives on the line every day and could be targeted as a result."
"We call on all media and figures who have spread this dangerous libel to retract, correct and apologize — and uphold the democratic values of a free press they so fervently espouse."
This article was originally posted on AlterNet by Ben Norton.