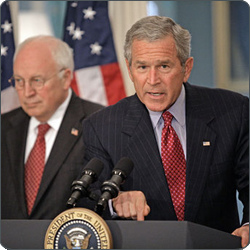 WASHINGTON POST– President Obama rebuffed calls for a commission to investigate alleged abuses under the Bush administration in fighting terrorism, telling congressional leaders at a White House meeting yesterday that he wants to look forward instead of litigating the past.
In a lengthy exchange with House Minority Leader John A. Boehner (R-Ohio), Obama appeared to back away from a statement earlier this week that suggested he could support an independent commission to examine possible abuses, according to several attendees who spoke on the condition of anonymity so they could discuss the private meeting freely.
White House press secretary Robert Gibbs, also seeking to clarify the president's position, told reporters that "the president determined the concept didn't seem altogether workable in this case" because of the intense partisan atmosphere built around the issue.
"The last few days might be evidence of why something like this might just become a political back and forth," Gibbs said.
The push for a "truth commission," which grew from the efforts of a few human rights groups, gained fresh momentum with last week's release of the memos from the Justice Department's Office of Legal Counsel that provided the basis for the enhanced interrogation techniques, including the practice of simulated drowning known as waterboarding. Obama has said he is opposed to holding CIA interrogators legally accountable, but in a statement last week, he left open the possibility of legal jeopardy for those who formulated the policy.
On Tuesday, Obama explicitly raised the prospect of legal consequences for Bush administration officials who authorized the techniques applied to "high value" terrorism suspects, and said if Congress is intent on investigating the tactics, an independent commission might provide a less partisan forum than a congressional panel.
Some key lawmakers, including House Speaker Nancy Pelosi (D-Calif.) and Senate Judiciary Chairman Patrick J. Leahy (D-Vt.), pounced on his remarks to push for a commission with subpoena power and the ability to grant immunity to some witnesses.
Read more at WASHINGTON POST.
© WASHINGTON POST 2009
Photo by Flickr user BlatantNews