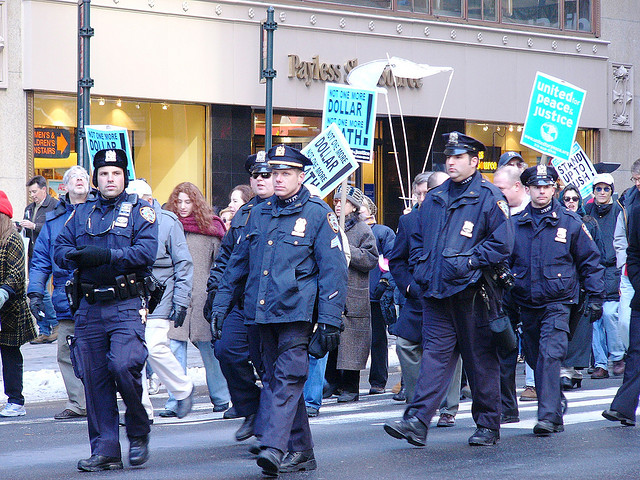 MEDIA ROOTS – In recent years, the New York Police Department has not only developed into an international police division, its officers regularly flaunt constitutionally-protected civil liberties and single-out minorities. As the "war on terror" enters its eleventh year next week, the question now is who are the actual terrorists?
Currently targeting activists with facial recognition technology, the force also uses drones in the skies and in the harbor with no sight of a horizon in this sea of surveillance. Additionally, several units regularly brutalize offenders of minor laws because of a widespread mentality that the legal code is not applicable to them.
While possibly some of America's finest officers work on this force, it is the current state of this police culture that is of dire issue. After all, it is not only a direct threat to a peaceful and prosperous future, it is indeed the exact mindset that America has spent over a decade fighting by sacrificing well over a million human lives and having spent approximately $11,000 for every man, woman, and child in America.
***
AlterNet – [New York City]'s population is a little over 8 million. That means that there are 4.18 police officers per 1,000 people. By comparison, Los Angeles, the second largest city in the U.S. with 3.8 million people, has only 9,895 officers — a ratio of 2.6 police per 1,000 people.
What has the New York Police Department been doing with all that … manpower? In addition to ticketing minorities for standing outside of their homes, spying on Muslims who live in New Jersey, busing protesters, and gunning down black teens over weed, the NYPD has expanded into a massive global anti-terror operation with surveillance and military capabilities unparalleled in the history of US law enforcement.
In an email published by WikiLeaks, an FBI official joked about how shocked Americans would be if they knew how egregiously the NYPD is stomping all over their civil liberties. But what we already know is bad enough.
Read the full article on AlterNet "9 Frightening Things About America's Biggest Police Force."
***
Photo provided by Flickr user ktylerconk.