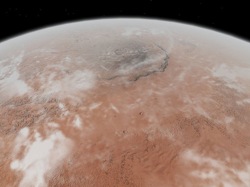 SCIENCE NEWS– Tiny fossils discovered on Earth in samples of sulfates, a class of minerals recently found to be common in some parts of Mars, bodes well for finding vestiges of life on the Red Planet, astrobiologists reported April 28 during a briefing held in conjunction with the Astrobiology Science Conference 2010 in League City, Texas.
Bill Schopf of the University of California, Los Angeles, and his colleagues discovered the fossils in deposits of gypsum, or calcium sulfate, that were deposited in the Mediterranean Sea 6 million years ago and then thrust up into the Alps.
The discovery, which included plankton and single-celled organisms such as cyanobacteria (pond scum), some filling areas tens of micrometers in diameter, was a surprise, he said. Schopf and other researchers had assumed that as sulfate crystals grow, they would crush and obliterate any microfossils that might have been trapped inside the minerals, "but that turned out not to be the case," he said.
Continue reading about Mediterranean Microfossils Offer Hope for Finding Life On Mars.
© Science News, 2010
Photo by flickr user FlyingSinger