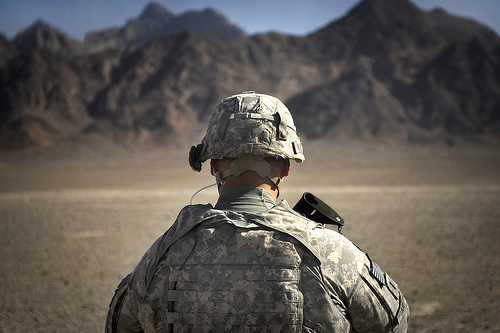 In early 2003, the stench of imminent US war peaked as the world superpower sought to invade Iraq. Close to all political stakeholders, the mainstream media emphasized its support for US troops as they awaited the battle of Baghdad.
In fact, nationalistic sentiment was so contagious that MSNBC fired its top anchor Phil Donahue for taking a stringent anti-war position. In a leaked internal memo, it was revealed that network executives thought that his prime time show was a "difficult public face for NBC in a time of war." Furthermore, the outlet feared it would be "a home for the liberal anti-war agenda at the same time that our competitors are waving the flag at every opportunity."
Now 11 years later, with over 4,000 US soldiers dead and over a million civilians left injured, Iraq remains one of the most unpopular wars in history, based on a series of mishaps and lies. And while politicians and news personalities were quick to rally behind the troops in their initial deployment, little attention has been paid to them in the aftermath. While the nonchalant advocates of the war continue to thrive personally and professionally, Iraq war veterans are still suffering from various injuries and mental health disorders.
Last month, Republican Senators led by Mitch McConnell blocked a bill which would have released welfare funds to veterans. Shockingly, they cited the lack of an amendment for Iran sanctions as justification to withhold the funding. Currently, the backlog of veteran benefits stands close to a staggering 400,000 cases, and the US Veterans Affairs' backlog for pending claims is over 125 days.
According to the Iraq and Afghanistan Veterans of America (IAVA) organization, "While there has been some progress to decrease the backlog, there is nothing to support which of these initiatives are working and which are not, nor is there evidence of planning beyond FY 2015."
The IAVA report presents the case of Joseph Ayala, a two time Iraq war veteran who is suffering from various ailments. Jason filed a disability claim in 2011 for Post-traumatic Stress Disorder (PTSD), yet received no compensation until 18 months later.
The Journal of American Medical Association concludes that soldiers are at much higher risk of mental illness than civilians are, asserting that nearly 25% of 5,550 active duty, non-deployed army personnel are suffering from a mental disorder, and 11% of those with more than one disorder.
Mental illness also takes a severe toll on one's friends and family. Iraq war veteran Jeremy Profitt discusses his struggle adjusting back home in California's East Bay. He compares his battle with PTSD and traumatic brain injury to the wars he fought abroad; "Some days I feel as if I have the enemy on the run; other days it has me pinned down", he says.
Former Army Sergeant Kayla Williams describes her tedious relationship with her husband Brian McGough, a war veteran suffering from PTSD. In a no holds barred memoir, Williams describes McGough's "code black" moments.
"The clue always was when his face would just flatten. It was like the shades being pulled. He would go from having a more expressive face to just complete coldness and he would say, 'You don't understand. You'll never understand'. And that was when I knew some switch had flipped in his head and he had crossed over into a level of rage or something that he couldn't control anymore."
For many veterans, the second Iraq war was nothing short of a deceitful endeavor. Former Sergeant Ricky Clousing thought he would be serving his country, but his job as interrogator made him rethink America's role in Iraq.
On the Iraq Veterans Against the War website, Clousing recounts "I saw an innocent Iraqi killed before me by US troops. I saw the abuse of power that goes without accountability…I finally concluded after much consideration that I could not train or be trained under a false pretense of fighting for freedom."
Meanwhile, the cheerleaders from the Iraq war remain resolute. Former Vice President Dick Cheney continues to defend his administration's bloody antics in Iraq with an unabated conscience, while he and his neocon bunch rages on about the next war. While the likes of veterans McGough and Profitt suffer an excruciating battle to remain sane, Cheney's former company Halliburton has made a fortune from the contracts they received during the US occupation. Cheney has since published his memoir where he once again defends a war for which millions have paid an imaginable price, while he and his gang of unapologetic neocons enjoy their riches.
Celebrity anchors that helped sell the Iraq war now claim it was a mistake. Yet they continue to hold their esteemed positions at their respective networks while maintaining that they were misled along with the rest of the nation. This would be true if prominent journalists such as Phil Donahue, Amy Goodman and Chris Hedges weren't opposing the war from the beginning while simultaneously being viciously demonized by the mainstream.
In an open letter to President George W. Bush, permanently paralyzed Iraq war veteran Tomas Young probably captures the momentous crime of the Iraq war best when he penned:
"I did not join the Army to "liberate" Iraqis or to shut down mythical weapons-of-mass-destruction facilities or to implant what you cynically called "democracy" in Baghdad… thousands of human beings, including children, including myself, were sacrificed by you for little more than the greed of oil companies, for your alliance with the oil sheiks in Saudi Arabia, and your insane visions of empire."
Usaid (Muneeb) Siddiqui is a freelance writer with an interest in South Asian and Middle East Politics. He can reached on Twitter @UsaidMuneeb16 
***
Iraq War Soldier Punished For Not Killing Civilian | Interview with Ryan Endicott
***
LIKE Breaking the Set @ http://fb.me/BreakingTheSet
FOLLOW Abby Martin @ http://twitter.com/AbbyMartin
Photo by US Army