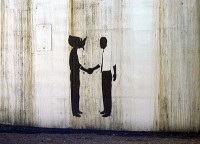 It is no secret that the Pentagon's hefty wallet influenced U.S. academia during the Cold War. Well-known examples include: funding MIT; establishing the JASON Defense Advisory Group; and creating RAND and DARPA. Much has been written on this subject. Even though the Soviet Union has fallen, the Pentagon's dominance over U.S. academia has only increased.
Labs, NSA and Cyberspace
To this day, Los Alamos National Laboratory operates in conjunction with the University of California system while Lawrence Livermore National Laboratory works with Texas A&M and UC. Aside from its traditional nuclear focus, Lawrence Livermore works with the Naval Postgraduate School to process real-time data feeds from USSOUTHCOM's missions. NPS Professor Bordetsky calls the program an example of a "classic, applied research project." If this is a "classic," one wonders what atypical research projects they're working on.
MIT's alliance with the Pentagon has grown considerably, with the duo planning to build a $450 million research facility at Hanscom AFB. According to the Boston Globe, MIT receives more than $750 million per year from the Pentagon. Leaving no stone unturned along Mass Ave., the Pentagon even runs a program for Senior Executives in National and International Security at Harvard's Kennedy School, a forum which allows high-ranking military officers and SES personnel to hobnob for two weeks.
With the advent of "cyberspace" as the military-industrial-congressional complex's next great hype, the Pentagon has redirected its coffers towards obsequious universities, which are willing to compromise academic integrity for the sake of lucrative funding. Culprits include Georgia Tech's Research Institute, Kansas State, and the University of North Dakota, which has established a bachelor's degree for aspiring drone operators. Aside from the usual suspects of KSU and Georgia Tech, other institutions deeply involved with the Pentagon's agenda include: Middle Tennessee State University, University of Michigan, and MSU.
As Salon has reported, over twenty universities have begun working with the Pentagon to establish drone programs of varying degrees and foci. Is your local college or university colluding with the Pentagon to manufacture weapons of war? Call and ask. The Office of the Registrar and various academic deans' offices are good places to start.
Although it is often overlooked, NSA also harms U.S. academia; NSA's estimated $6 billion budget allows it to absorb USA's most talented mathematicians and computer scientists, who are then placed deep under the Old Line State to focus entirely on matters relevant to "national security." Imagine the benefits to humankind if an agency with a benevolent mission (perhaps the EPA or the Department of Education) were allocated untold billions and given free reign with USA's best and brightest. Consider the following example: the complex algorithm used to weigh whether to attack military-aged males via drone was created by CIA brains. Imagine if minds like these were put to good use.
Social Science and Human Terrain
The Pentagon also engages the social sciences, which are traditionally a liberal refuge and averse to complicity in warfare. In its own words, the Department of Defense (sic) then "leverage[s] the expertise and infrastructures of a wide range of existing mechanisms for funding basic research." This initiative, known as Minerva, allows the Pentagon to actively direct academia towards militant purposes. The result is dismal, as Hugh Gusterson indicates:
"The Pentagon will have the false comfort of believing that it has harnessed the best and the brightest minds, when in fact it will have only received a very limited slice of what the ivory tower has to offer – academics who have no problem taking Pentagon funds… Details like the source of one's funding can make or break the legitimacy of ones work."
All sides lose. The Pentagon doesn't obtain voices representative of academia, while those academics who collude with the Pentagon produce tainted research and are often ostracized by their independent peers.
The Pentagon has already succeeded in absorbing some social scientists under its Human Terrain program, albeit with negligible results as seen on National Geographic, which conveniently avoids questioning the imperial presence of the U.S. military in the nation of Afghanistan. The hard fact is that anthropologist academics attached to imperial misadventures in Afghanistan are nothing more than gilded PSYOP operators.
Funding and Abuse
On 8 May 2012, the Pentagon announced plans to award $54.7 million to various academic institutions "to support the purchase of state-of-the-art research equipment." This funding – made under the Defense University Research Instrumentation Program (DURIP) – is divided into 190 separate awards to over 100 distinct academic institutions. Its stated intent is to augment "current university capabilities or [develop] new university capabilities to perform cutting-edge defense research." In other words, these funds supplement, and are completely outside of, normal Pentagon funding of academia. But these millions are just a drop in the bucket.
Eight days after the Pentagon dropped the $54.7 bomb on academia, it issued $155 million in funding "to academic institutions across the country to perform multidisciplinary basic research."  This Multidisciplinary University Research Initiative (MURI) "supports the research of teams of investigators whose backgrounds intersect multiple traditional science and engineering disciplines in order to accelerate research progress… A total of 63 academic institutions are expected to participate in the 23 research efforts."
In its own words, the Pentagon divvies out over "$2 billion each year in basic, applied, and advanced research" to dozens of universities. According to the Pentagon, the recent DURIP funding "meets a critical need by enabling university researchers to purchase scientific equipment costing $50,000 or more." Once in control of the coffers that fund academic projects, the Pentagon then has a direct say in how university research is directed, used, and implemented.
All bases are covered. According to the Pentagon's own press release, it is able to penetrate numerous fields, including "research underpinning advances in surface chemistry and physics, computing and networks, electronics and electro optics, neuroscience, fluid dynamics and propulsion, robotics and autonomous systems, and ocean, environmental, and biological science and engineering."
In this hegemonic spirit, the Office of Naval Research runs a Young Investigator Program whose explicit goal is to "attract outstanding faculty members of Institutions of Higher Education to the Department of Navy's research program, to support their research, and to encourage their teaching and research careers." Cooptation of academia has never been so brazen.
Pentagon State University
The Pentagon also runs its own network of universities and colleges, which effectively bypasses any dissent that might arise from close working relationships with civilian institutions. Through its own academic institutions, the Pentagon is able to create a mutant form of academia, which justifies war and couches acts of imperial aggression in martial academics.
The Pentagon's schools of higher learning include: the National Defense University (which encompasses the National War College, the Institute for National Strategic Studies, the College of International Security Affairs, the Eisenhower School for National Security & Resource Strategy, the Joint Forces Staff College, and the Information Resources Management College); the Naval War College; the Naval Postgraduate School; the Army War College; the Marine Corp University; and the Air University (which includes the Air War College, among others).
The U.S. Army also operates the Army Command & General Staff College, the Army School of Advanced Military Studies, and the Army Management Staff College, many of which overlap in ambit and mission. This list is woefully incomplete, as it is difficult to ascertain the size of the Pentagon's bloated pseudo-academic colossus.
Military personnel often leave the Pentagon's corridors in order to teach throughout U.S. academia. General David Petraeus, who co-authored the dismal COIN doctrine and oversaw USA's occupation of multiple countries, is about to enlighten young minds at CUNY and USC. General Stanley McChrystal, former Commander of JSOC, now teaches leadership at Yale. (Yale even went so far as to once plan on building an interrogation training center on its campus for use by U.S. special operations forces).
Admiral Mike Mullen, former Chairman of the Joint Chiefs of Staff, has taught at Princeton. Admiral Eric Olson, former Commander of USSOCOM, has taught at Columbia. Admiral Stavridis, former commander of NATO, was recently appointed Dean of Tufts' Fletcher School. Tufts' press release quoted the Admiral: "We are excellent at launching Tomahawk missiles; we need to get better at launching ideas." Tufts' official paean gave no comment on the number of civilian casualties that are known to accompany USA's aforementioned missile strikes.
Through various approaches, the Pentagon has succeeded in contorting U.S. academia. Considering how many communities across the United States have suffered mass school closings, it is difficult to justify continued funding of educational institutions whose primary focus is on preparing for and conducting war. Our country would be better served spending limited discretionary funding on un-militarized educational objectives, healthcare, or clean energy.
Christian Sorensen for Media Roots
Photo by Flickr User: JHF