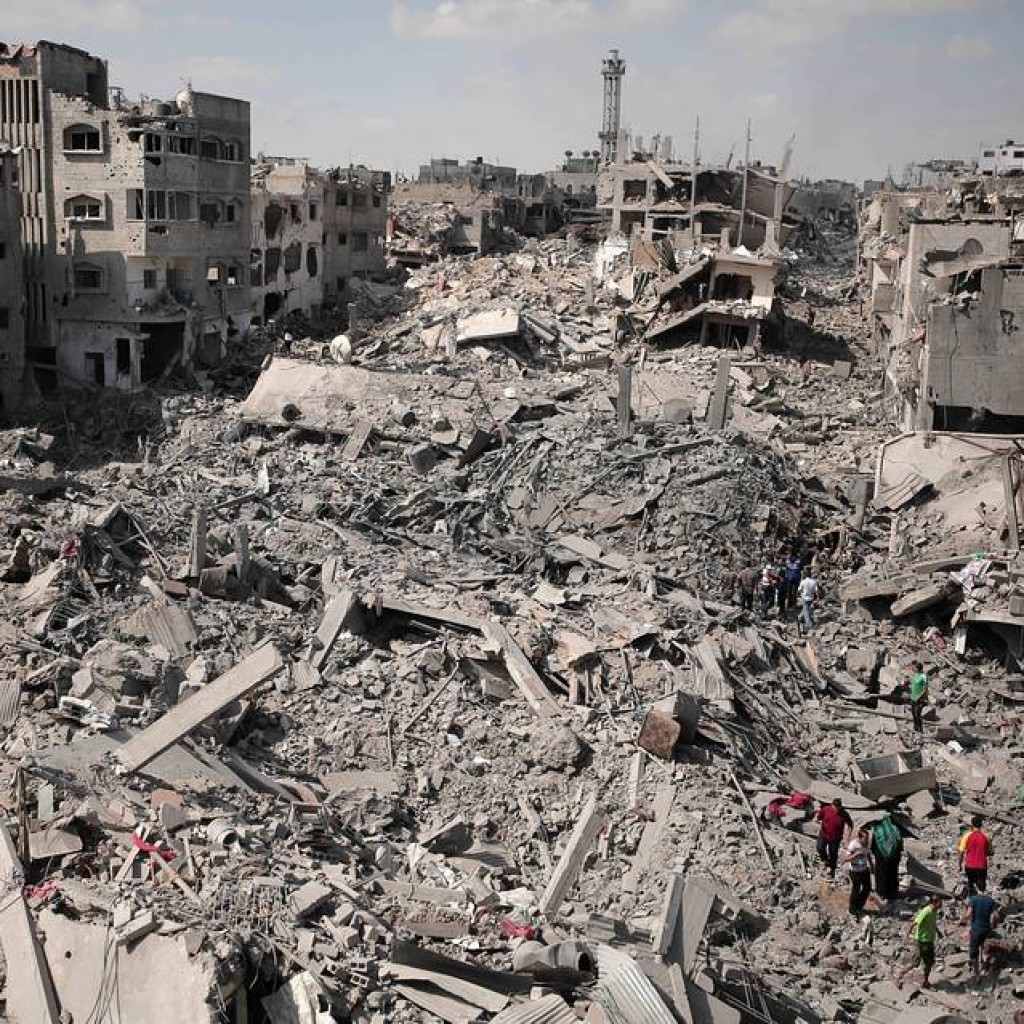 The Israeli Government Press Office has denied the host of TeleSUR's popular "Empire Files" program Abby Martin credentials to enter Gaza, citing baseless charges that she is associated with the "enemy country" of Iran.
"We are currently examining information that TeleSUR is associated with the government of Iran, an enemy country under the Israeli law," Ron Paz, the director of the Foreign Press Department, wrote to Martin in an email dated September 4. "The GPO [Government Press Office] rules prevent us from issuing accreditation to those working on behalf of enemy countries."
Paz wrote that the application for press credentials filed by Martin and her TeleSUR colleague Michael Prysner is being subject to a probe, noting that he does not expect the investigation "will reach a final conclusion within days."
In a statement emailed to AlterNet, Martin said, "All the American journalists we have talk to here said they received their press credentials within hours—so the claim by the Israeli press office that they cannot honor our request in a timely manner is an obvious diversion."
"The Israeli government is using a bizarre and unprecedented claim that journalists working for TeleSUR are considered enemy agents on behalf of Iran, despite there being zero proof to this charge," Martin continued. "This has major implications for all journalists working for any media that receives state funds."
TeleSUR receives funding from multiple Latin American states, including the governments of Venezuela, Cuba and Bolivia.
Martin is host of the program "The Empire Files," which describes its mission as "recording a world shaped by war and inequality." Her reporting has consistently reported on Israel's human rights abuses against Palestinians and raised questions about why major media outlets are failing to cover these abuses.
"So far on our travels in Palestine, we have witnessed a massive and desperate human rights catastrophe—so it is not surprising that the perpetrator of these crimes is attempting to limit how much we can see and report on," said Martin. "I believe this is part of a larger effort by the Israeli state to hide the grim reality of their illegal occupation and expansion."
Israel has repeatedly denied Gaza entry to human rights investigators and journalists, leaving United Nations officials seeking to research atrocities committed during Israel's 2014 military assault on Gaza stranded in Amman after their application for an evidence-gathering mission was rejected. 
The Israeli government sparked outrage in 2015 when its foreign ministry released a 49-second, animated video, styled after the cartoon South Park, which mocks foreign correspondents reporting on Israeli human rights abuses in Gaza as being duped by "terrorists." The video attracted controversy because it followed Israel's 2014 war, which killed at least 15 media workers in Gaza, prompting both the Committee to Protect Journalists and Reporters Without Borders to protest the targeting of journalists.
One of the most densely-populated places on earth, Gaza is home to roughly 1.8 million people, approximately 75 percent of them refugees. The 25 by six mile strip of land has been under a crippling Israeli military siege since 2008, with military and diplomatic support from the United States and logistical assistance from the military junta of Egypt. Numerous wars and the blockade have left Gaza's economy on the brink of collapse, decimated civilian infrastructure and killed thousands of Palestinians.
**
Abby Martin, host of teleSUR's "The Empire Files," has been accused by the head of Israel's foreign press office, Ron Paz, of not being a journalist because of her her pro-Palestinian views.
"We took a look on your Twitter account too, just to get a sense of it," Paz told Martin in an email Wednesday. "What we found can easily be labeled as pure Palestinian advocacy, and sure not journalism."
Paz provided three examples of tweets by Martin, which are clearly critical of the Israeli occupation of Palestine.
"Our squad, from all different backgrounds, in solidarity with #Palestine's resistance — One day this wall will fall!" reads one tweet that was reshared by Martin and used by Paz in his email to point to her pro-Palestinian "bias."
Requesting an explanation, Paz said: "Please explain if this is the correct professional approach of a team of journalists arriving to cover the Israeli-Palestinian conflict. Isn't supporting 'Palestine's resistance' already taking side(s) in the most biased way can be (sic) imagined?"
"US issues biggest military aid package ever to Israel, $38 billion to ensure apartheid & brutal occupation continues," reads the second tweet shared by Paz in his email. "Please explain if this too falls under professional, unbiased journalism, or is it pro-Palestinian activism," the Israeli foreign press chief asks.
Last week Paz told Martin that her press pass to enter the Palestinian Gaza Strip was put on hold pending an investigation by his department about teleSUR cooperating with Iran's state-run media outlet, HispanTV, a country branded an "enemy state" by Israel.
In his latest email, the senior Israeli official said the investigation has confirmed the allegations, and requested both Martin and teleSUR address the issue.
This comes despite teleSUR English issuing a formal letter to Israeli authorities highlighting the fact the channel is not associated with any other government in a manner that goes beyond the types of relations typical of other press outlets.
Martin arrived in Israel in late August, spending time in the occupied West Bank. She was planning on travelling to Gaza in order to continue work for an upcoming episode of The Empire Files.
"I believe this is part of a larger effort by the Israeli state to hide the grim reality of their illegal occupation and expansion," she told teleSUR English, commenting on the earlier email exchange.
Gaza has been under an Israeli blockade since 2008 and has witnessed three major escalations with Israeli occupation forces that have claimed the lives of thousands of Palestinian civilians.
While some media outlets have been able to access the strip, Israel has been known to place restrictions on representatives from critical media organizations wishing to enter Gaza to report on the hardships faced by the 1.5 million Gazans as a result of the Israeli air, land and sea blockade.
This article originally appeared on teleSUR English and was reprinted on Mint Press News