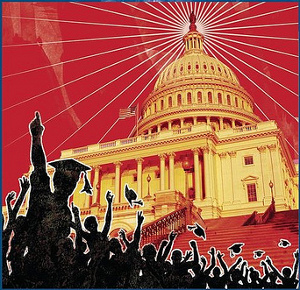 JURIST– The Casa de Maryland immigrant rights group filed a challenge Monday to a public referendum over a Maryland law providing in-state tuition to undocumented college students. The group filed the challenge in the Maryland Circuit Court for Anne Arundel County after opponents of the Maryland DREAM Act collected enough signatures to put the law to a public referendum. Casa de Maryland and eight other individuals are challenging the referendum for two main reasons.
First, they argue that the DREAM Act will result in state tax money going to fund the tuition breaks making it an appropriations measure not subject to repeal by referendum. Second, they argue that over 57,000 signatures on the petition for the referendum are invalid because of the computer system used to collect them. Many of the signatures were submitted through MDPetitions.com, which downloads and prints a "Pre-Filled Petition" that only needs to be signed and mailed in. The website prints out the form with the voters' information exactly as it appears in their voter registration, necessary for the signature to be valid. But the plaintiffs argue that such a system is invalid because the petitions do not have sufficient verification to be valid under state law:
There are sound policy reasons for requiring … the petitioner signer to fill in his or her own information on the form, rather than allowing that information to be filled in by someone else. Anyone—including someone other than the voter—could have the website generate a "Pre-Filled Petition Form" with that voter's information pre-printed, both in the signing block and the circulators affidavit. The user (who is not the voter) could then print out the form, sign the voter's name in the signature space and in circulator's affidavit and mail the form to MDPetitions.com for submission to the Secretary of State and State Board.

Supporters of the referendum collected over 100,000 signatures [Baltimore Sun report] with broad bipartisan support: 63,487 Republicans, 32,397 Democrats and 12,628 independents. The DREAM Act narrowly passed the Maryland legislature in the final hours of the spring session.

The Maryland DREAM Act is currently suspended pending the public referendum. In order to be eligible for in-state tuition, undocumented residents would have to have attended at least three years of high school in Maryland and show their parents had filed tax returns to the state. The US Congress has considered a similar but more far-reaching bill [legislative materials; text], also entitled the DREAM Act, that would provide a path to permanent resident status for some high school graduates who enter the military or enroll in a college degree program.
Read more about Immigrant Rights Group Challenges Public Referendum to Overturn Maryland's DREAM Act.

© 2011 Jurist

Photo by Flickr user DreamActivist