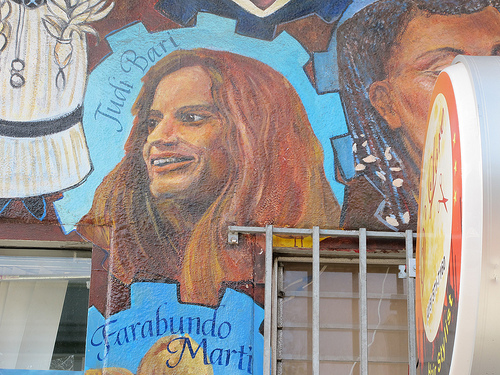 MEDIA ROOTS — Judi Bari was an activist, a person of conscience, who exercised her First Amendment rights toward socioeconomic justice for much of her life. She was one of the leading organisers to popularise environmental activism with Earth First!, which influenced the environmental activism contributing to the historic 1999 WTO resistance in Seattle, as well as the more recent Occupy Movement. On May 24, 1990, a motion-triggered car bomb exploded under Judi's car seat, as she and Darryl Cherney drove through Oakland en route to Santa Cruz during the Redwood Summer organising tour.
Judi Bari's story, one of solidarity and collective action, has been documented in an important new film by Mary Liz Thomson (Director/Editor) and Darryl Cherney (Producer) entitled "Who Bombed Judi Bari?" The documentary film will have its world premiere next week at the 2nd Annual San Francisco Green Film Festival taking place March 1-7. The world premiere screening will be on Friday, March 2, at 5pm (1746 Post Street, SF). With the full production team in the house, this screening will likely be filled to capacity. So, advance tickets are recommended for those interested in attending.
This is an important film for all because it speaks directly to our human rights in the face of state belligerence. If we don't care to question culpability when our neighbours are attacked, particularly where the state has motive to repress, we are unlikely to encourage future generations to take principled stands for socioeconomic justice. From JFK, X, Ché, MLK, Fred Hampton, and countless others to 9/11, as the state obfuscates and destroys evidence outright, lack of curiosity becomes erosive to our humanity.
Perhaps, we are learning. In the case of the 1990 attempt on Judi Bari's life, the FBI was thwarted in its plans to destroy all of the evidence.
According to Democracy Now:
"A U.S. federal judge in California has ordered the FBI to preserve evidence in a 1990 car bombing that nearly killed two members of the environmental group Earth First! The FBI was planning to destroy all evidence in the case, even though agents had never determined who carried out the attempted assassination of environmental activists Judi Bari and Darryl Cherney. The FBI initially arrested the activists for building the bombs themselves, but the pair later sued the FBI and won more than $4 million in damages."
Messina
***
"Who Bombed Judi Bari?" trailer
***
SFGFF — This is a raw, personal and at times abrupt film, with a protagonist and story vitally important to American justice and the struggle for the environment. Judi Bari was an environmental and social justice activist who popularized protests against clear-cutting (e.g. at Headwater Forests) together with the organization EarthFirst! in the 1980s and '90s. At times, she (and others) proceeded despite threats of death and violence. Then, on May 24th, 1990 in Oakland, CA, a bomb explodes in Judi's car and she suffers debilitating injuries along with confidant, and the film's producer, Darryl Cherney. In the aftermath FBI and local police accuse the team of bombing themselves. It chronicles the rise of a powerful movement as well as the circuitous court cases that followed the blast. Chock full of archival news footage, interviews and statements by Bari, viewers follow a path from non-violent eco protests to an ostensible assassination attempt on Judi's life with an associated cover-up – ending with a surprising resolution.
***
"Redwood Summer: Where the 90s Begin," by Mary Liz Thomson, et al. (1990)
***
Photo by Flickr user Gary Soup