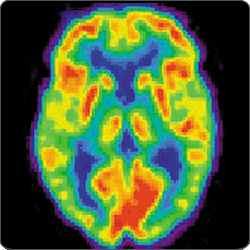 KURZWEILAI– University of Michigan Center for Wireless Integrated Microsystems professor Euisik Yoon and colleagues are developing a next-generation design for a brain-computer interface (BCI): a brain implant called BioBolt.
This patent-pending invention could someday allow some disabled patients to control an arm muscle (or other muscles) by just thinking about the movement — without wires keeping them immobilized in a chair.
A bolt implanted in the skull would contain an ASIC (application-specific integrated circuit) microchip under the skin in the skull. It would pick up and process neural signals, and transmit them via the skin directly to a receiver located in or near the target muscle group (such as an arm or hand).
Read full article about New Brain-Computer, Mind-Control Technology.
© 2011 Kurzweilai
Photo by flickr user Blatant Truth