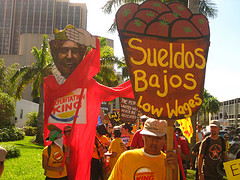 MEDIA ROOTS — After a two year campaign, The Coalition of Immokalee Workers (CIW) has finally persuaded Trader Joe's to sign on to a fair food agreement that will change the working conditions and lives of tomato workers in Immokalee, Florida. The coalition consists of over 4,000 farm workers who incur unfair wages and dangerous working conditions. Since its creation in the early 90s, CIW has successfully campaigned against these unjust practices, giving workers the opportunity to have a comfortable working environment.
Trader Joe's has joined in with a collection of food service providers who have agreed to follow a fair standard of labor practices, as well as a price premium for workers. The agreement also suggests a healthy and ethical relationship between workers, tomato growers, and food industry bosses. Interestingly, the original support for the campaign came from fast-food corporations, such as Taco Bell, Burger King, and McDonald's. Other food service providers included in the agreement are Bon Appétit Management Co, Compass Group, Aramark, and Sodexo.
The Coalition of Immokalee Workers has worked incredibly hard for over twenty years to ensure justice to farm workers in Florida. With the inclusion of southern Mexican music and reworked Lady Gaga songs, the CIW has galvanized tens of thousands of people all over the country in their campaign for labor and food justice. At an event in October, 2011, the CIW organized a large-scale action at the headquarters of Trader Joe's in Monrovia, California. A group of clergy stood by the side of many farm workers, leading hundreds of protestors through the streets to the front doors of the building. The action led to a successful dialogue between the CIW and Trader Joe's officials.
"I was so happy to hear of the news," CIW supporter Natali Rodriguez explains. "It just goes to show that grassroots organizing and the power of the people really can make a difference in the world." Rodriguez has participated in numerous CIW actions and was also present for the large action at the Trader Joe's Headquarters.
Trader Joe's has set a precedent that will hopefully encourage others in the food industry to increase their standards of labor practices. "It shows the power of movements that are led by people who are most affected by the issue, in this case farm workers, and also the power of having strong allies," Tim Carlson adds. "The supermarket industry better watch out." It's inspiring to know that organizations like the CIW are diligently fighing for the rights of community workers by pressuring the food industry to create a more ethical and responsible relationship between their workers and products."
Written by Zena Andreani for Media Roots
Photo by flickr user NESRI