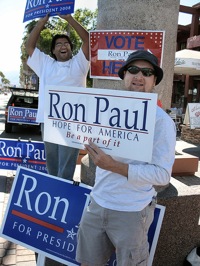 SAN DIEGO READER– Some of them have been seen suspending large banners from freeway overpasses. Others have been spotted at busy intersections waving signs that call for revolution. And groups of them have been heard on street corners in the Gaslamp and Pacific Beach discoursing on the need to end foreign military occupation, restore civil liberties, and dissolve the IRS and CIA.
They are San Diego's soldiers in the grassroots army of presidential candidate Ron Paul, a ten-term Republican Congressman from Lake Jackson, Texas, and they are taking on the establishment one homemade sign and one commandeered street corner at a time.
With nearly 975 members, the San Diego branch of the Ron Paul campaign is the fourth largest in the country, behind those in New York City, Austin, and Chicago. The chapters are unaffiliated with Paul's national headquarters in Arlington, Virginia, receiving neither aid nor direction. Local members shell out their own money to print stickers and campaign literature, and they can be seen making runs to the hardware store for paper and spray paint to make their signs. They sell buttons, shirts, and Ron Paul DVDs from the beds of their trucks: DVDs for 25 cents, a button for $1, and shirts for $5.
They also hold meetings at places like the Boll Weevil restaurant in San Marcos. On January 10, some of North County's newest members cram into the Boll Weevil's empty dining room to introduce themselves and share their efforts with others in the campaign. The excitement from the 31 in attendance overpowers the scent of the half-pound steerburgers.
The supporters span the political and age spectrums. They range from a politically disgruntled man in his late 60s wearing a checkered flannel shirt to a 20-year-old female law student.
Continue reading about The Ron Paul Posse.
© San Diego Reader, 2008
Photo by flickr user Jayel Aheram