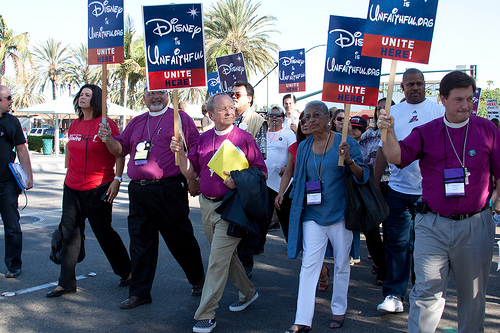 UNITE HERE– As University of California Regents prepare to vote for another tuition hike next week, students and workers gathered July 8, to protest drastic higher education cuts, while corporations like Disney win generous tax breaks.
Students and workers targeted their protest at media CEO Monica Lozano, who is the publisher of La Opinion newspaper and a University of California Regent. As a UC Regent, Lozano has approved seven recent tuition hikes, while simultaneously serving on the Disney corporate board, which last year won millions in potential tax breaks.
One such tax break, an Enterprise Zone distinction in Anaheim, could bring Disney more than $1 million in tax savings just by hiring 100 employees throughout the year, including student summer hires.
Students called on Lozano to reject the latest UC tuition hike. UC tuition and fees will top $11,000 per year this fall.
"As a UC Regent Monica Lozano is assisting in the devastation of California higher education, while getting paid by Disney, which is getting huge tax breaks," said Joe Silva, a UCLA student. "Disney made $4.4 billion in net profit last year — does it really need a tax break?"
Disney paid Lozano $246,911 in 2010 to serve on its board.
Gov. Jerry Brown had proposed the repeal of the Enterprise Zone program, which costs the state roughly $465 million a year in tax revenue, but doesn't create jobs, according to a study by the nonpartisan California Budget Project. However, in the final budget deal passed on June 28, the Enterprise Zone tax breaks were left in tact, while $650 million was cut from the UC system, $650 million cut from CSU system and $400 million cut from community colleges.
Read more about Students, Workers Protest Higher Ed Cuts, Corporate Profits
© 2011 Unite Here! Local 11
Photo by Flickr user Jim DeLa